Grey Owl
(1999)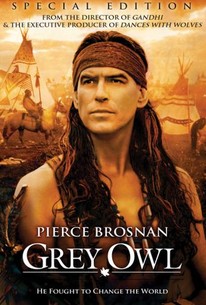 Movie Info
Archibald Belaney was a British man who grew up fascinated with Native American culture -- so much so that in the early 1900s he left the United Kingdom for Canada, where he reinvented himself as Archie Grey Owl and lived in the wild as a North American Indian trapper. He eventually became an environmental activist after renouncing trapping and hunting. Grey Owl is based on Belaney's true story, starring Pierce Brosnan in the title role. In 1934, Archie was living a largely solitary life when he met a young woman named Anahareo (Annie Galipeau), an Ojibway Indian nicknamed Pony. Pony is fascinated by Archie, largely because she wants to know about her people's heritage. Her father, Jim (Graham Greene), is a businessman who wears a suit to work and has little concern for his history; in Archie, Pony sees a link to her past that she can't find in her family. Archie has little use for Pony at first, but in time the two begin to bond, and it's Pony who convinces Archie to give up trapping and work to protect animals. She also encourages Archie to write a book about wilderness life in Canada. The book becomes a huge success and makes Archie something of a celebrity, but with recognition come nagging questions about Archie's true heritage. (In reality, Archie Grey Owl's true idenity did not become public knowledge until after his death.)
Critic Reviews for Grey Owl
All Critics (12) | Top Critics (3) | Fresh (2) | Rotten (10) | DVD (1)
There is a poignancy in some of these latter scenes, but it comes too late and never goes deep enough.
Good intentions equal boredom in this slow, overly reverential portrait.
Everyone talks in dead, uncharismatic monotone.
January 1, 2000 | Rating: 5/10
Audience Reviews for Grey Owl
½
I really liked this picture because of the two main characters. Grey Owl/Archie Belaney(Pierce Brosnan) and Pony(Annie Galipeau) two souls who happen to have feelings for each other(their attraction is not noticable at first). Plus if you like the historic Canadian landscape, cute furry animals, and cool Native Indian culture check this picture out. "Grey Owl" is a nice movie to sit at the comfort of your home with a mug of hot chocolate in one hand and a warm blanket to cuddle up too. Doesn't hurt if you watch it with your loved one either.
Grey Owl Quotes
There are no approved quotes yet for this movie.