Gridiron Gang
(2006)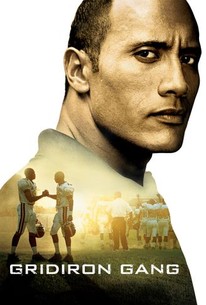 TOMATOMETER
AUDIENCE SCORE
Critic Consensus: The role of probation officer Sean Porter fits Dwayne "The Rock" Johnson like a glove; however, the execution is so cliched, the youths' stories (based on real events), fail to inspire.
Movie Info
The true story of the football team that proved sometimes second chances can make a difference comes to the screen in director Phil Joanou's tale of self-respect and social responsibility on the gridiron. Sean Porter (The Rock) is a detention camp probation officer who oversees the inmates at Camp Kilpatrick in Los Angeles and isn't willing to simply write off the violent offenders who have been placed in his care. Though their prospects for the future are decidedly bleak, Porter is convinced that if he can just get through to his adolescent inmates they may finally be able to turn their lives around and make amends for the mistakes of their past. When Porter's proposal of forming a high-school-level football team at Camp Kilpatrick meets with skepticism and resistance in the highest ranks, the determined coach puts his career on the line to prove that even convicted criminals can acquire the tools needed to build a brighter future when given the proper motivation and the means of doing so. Inspired by filmmaker Jac Flanders' 1993 documentary of the same name, Gridiron Gang features a screenplay penned by In the Line of Fire scribe Jeff Maguire, and features a supporting cast that includes Leon Rippy, Kevin Dunn, and Detroit-born rapper-turned-actor Xzibit.
Critic Reviews for Gridiron Gang
Audience Reviews for Gridiron Gang
½
Gridiron Gang was a pleasant surprise. I did not expect to enjoy it, and at times it6 did have some so-so moments, but when you see it, you can see that the film has a driving message of hope, which is the key to the film's success. Far from great, but quite entertaining, the film is an impressive feat for The Rock who is able to deliver a good dramatic performance here. Sports film, especially football films are a bit overdone, and we all know how they'll turn out in the end. However, this is an interesting angle on the genre, and it works. Some viewers will surely enjoy it for The Rock range, and he lights up the screen. The film at times could have been a bit better and there are a few scenes that should have been reworked in order to make the film stands. Luckily there are plenty of much better scenes that give this film its power, and it is a thoroughly engaging experience for those that enjoy this genre. Although never too original, this is an interesting twist on a football film, and like I said it's got a good message, which plenty of viewers can get behind and appreciate. A fine mix of performances and a good screenplay rounds out the film to make this a film not to miss, and even for people that are skeptical about such films; Gridiron Gang has something for everyone and it is a well acted, directed film that is far better than many other films in the genre,
½
An electrifying performance by Dwayne "The Rock" Johnson in a cliche but good-hearted movie. This, admittedly, was a guilty pleasure of mine. DON'T HATE
This is without a doubt my absolute favorite sports movie of all time. It had fantastic acting, an inspirational story, and some of the best sports quotes out there and fantastic character development. The main reason people want to see this movie will be because of Dwayne "The Rock" Johnson, and I can tell you guys that he certainly does not dissapoint. His performance as coach of the Mustangs was the bescoach portrayel I've seen since Buttermaker from Bad News Bears. It was emotional, and realistic. However, If Dwayne gets my lead for best performance in the movie, Jade Yorker get's a close second as Willie Weathers, a former 88 gang member who shot his heavily abusive father after he tried to hit his mother, and ends up as running back for the Mustangs. He was my favorite character, and I found myself cheering for him all the way. The story is great to. It is about a former NFL player turned coach named Sean Porter, who organizes a high scholl football team out of slightly misunderstood gangsters serving time at a youth correctional facility. The lesson is "Not everyone get's a second chance, so use it well" and what a lesson it is. The football action was pretty good too. Bottom line, this is the best football and sports movie I've ever seen, period.
Marc Lewis
Super Reviewer
Gridiron Gang Quotes
| | |
| --- | --- |
| Sean Porter: | Everybody listen up! The Gridiron is a football field. On the Gridiron, we do it my way, not your way. Your way got you here. Whatever gang you claim, whatever hood you're from, this is your hood now. |