Gridlock'd
(1997)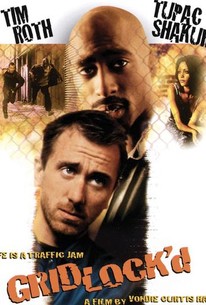 Movie Info
This gritty urban comedy focuses on three heroin addicts, one of whom must be rushed to a hospital after an overdose. As the condition of Cookie remains to be foretold, the other two try desperately to get into a rehabilitation clinic but face a never-ending wall of red tape.
News & Interviews for Gridlock'd
Critic Reviews for Gridlock'd
Audience Reviews for Gridlock'd
I found this quite a bleak depressing film with moments of humour, true its a dark comedy and a satirical look at the bureaucracy and needless paperwork that I'm sure most countries have but there isn't really anything upbeat about it. Not that there is suppose to be I'm sure, a film about junkies trying to get into rehab or just looking for some help but only to come face to face with weeks of waiting and forms, enough to make anyone shoot themselves. Its a decent film but not as good as it was made out to be in my opinion, Roth is simply his whiny foul mouthed annoying self but Shakur does a little better actually showing some emotion for once, Newton is just cute as a button but with little to do. I think the sub plot about getting involved in a murder case and having drug dealers on their tail kinda spoils the dark realistic comedy of their rehab mission, kinda makes it too daft and more Hollywood if you ask me. Definite cult and Shakur's last film.
Phil Hubbs
Super Reviewer
I love this movie, its extremely entertainly. Its a laugh a minute and you can just fall in love with all the characters! Tupak and Roth are fantastic and have great chemistry and Newton is also brilliant. Its a highly enjoyable and funny movie that is a must to watch!
Film Crazy
Super Reviewer
an excellent film about friendship and the abuses of heroin. tupac puts forth probably the one truly noteworthy performance of his acting career and tim roth is brilliant as always. underrated in that this film has been so largely ignored over the years, definitely worth a watch.
Gridlock'd Quotes
There are no approved quotes yet for this movie.