The Grifters
(1990)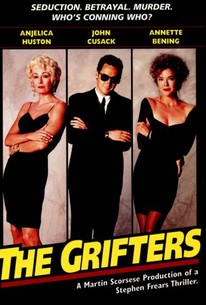 Movie Info
Director Stephen Frears' tense adaptation of Jim Thompson's novel The Grifters was one of a number of revival film noirs in the first half of the '90s. Updating the setting to contemporary Los Angeles, the film follows a trio of con artists who are intent on out-foxing each other. Roy Dillon (John Cusack) is a simple, two-bit con, whose life is thrown into turmoil when his estranged mother Lilly (Anjelica Huston) returns home in an attempt to evade the law. Lilly doesn't warm to Roy's girlfriend Myra Langtry (Annette Bening), who is too similar to herself. Soon, the two women are competing for Roy in a battle that is more of a power struggle than a pursuit of affection, and the battle quickly turns dangerous. Huston was nominated for an Academy Award for her work.
Critic Reviews for The Grifters
Audience Reviews for The Grifters
½
A first-rate neo-noir that benefits from superb performances (especially Anjelica Huston and Annette Bening); an excellent, dark script; a fantastic score by master Elmer Bernstein; and Stephen Frears' exquisite direction at the helm of one of the most gripping films of his career.
Carlos Magalhães
Super Reviewer
½
A young con artist learns the hard way that relationship problems cannot be solved with money. And there's a crapload of money here on display. Every time you look somebody is reaching into a bag to pull out stacks of green. Stacks of green laying around like a Halloween candy grab. And while Cusack and Bening are okay in this, make no mistake this is Anjelica Huston's movie. The best scene is between her and Pat Hingle, who can pull off psycho/wackjob with the best of them.
Kevin M. Williams
Super Reviewer
½
A forgettable outing from one of my favourite directors, unfortunately. Annette Bening is a sparkplug, Angelica Huston is electric, and the final act is a knockout. Unfortunately, the film bounces around for the first hour or more, in a way that, instead of building intrigue, is jarring and kind of confusing. Every time you think you understand what's happening with a character, the film cuts away and focuses elsewhere. It's not the three way chase that has been mastered elsewhere (see: No Country for Old Men), it's just a rote series of flashes. This film could easily have been 20 minutes shorter. But, to its credit, most of the threads dropped in the wandering earlier portion are picked up in the end, and the final half hour is gripping. Definitely an immature film from Frears, and one that was probably over-rated due to its adhesion to that weird early 90s neo-noir thing (see: Basic Instinct, Fatal Attraction, etc.). If you turned it off before getting to the ending, I won't hold it against you.
Daniel Perry
Super Reviewer
The Grifters Quotes
| | |
| --- | --- |
| Lilly Dillon: | Lilly: My son will be all right. If he isn't, I'll have you killed. |
| | |
| --- | --- |
| Bobo Justus: | Tell me about the oranges, Lilly. |