Touchez Pas au Grisbi (Hands Off the Loot)
(1954)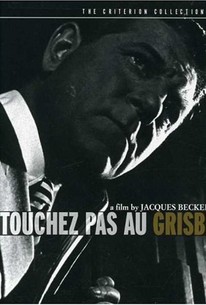 Touchez Pas au Grisbi (Hands Off the Loot) Photos
Movie Info
This strangely-christened French film noir was released in the U.S. as Grisbi. Jean Gabin stars as a racketeer known by the Runyonesque nickname of Max the Liar. Seeking out the finer things in life, Max intends to pull one last job and retire. After stealing a fortune in gold, our "hero" is faced with a crisis of conscience when his best friend (René Dary) is kidnapped and held for a huge ransom. Somehow Max manages to turn the tables on the abductors, but his dreams of a life of ease explode in his face. Up-and-coming leading lady Jeanne Moreau plays a pivotal role as the femme fatale who leads Dary into the hands of his kidnappers. ~ Hal Erickson, Rovi
Critic Reviews for Touchez Pas au Grisbi (Hands Off the Loot)
Audience Reviews for Touchez Pas au Grisbi (Hands Off the Loot)
an excellent crime story. gabin plays a solid lead and scala is sexy in her limited role in a film that caught me by suprise. only loosely a heist film, it is fairly similar to much of melvilles great work. im glad i bought the film because i know i will rewatch it many times.
There are more worries in the life of a gangster besides money. There's love, loyalty, friendship, and the most implacable killer of all: time itself, the way it undermines and vanishes every human being no matter how strong or resolute he/she used to be. Jean Gabin plays the elegant and charismatic Max, an aging criminal mentor who finds his way to retirement full of bumps. After pulling out the heist that Max thought would end up his occupation for good, Max's best friend Riton tells his girlfriend (a very young Jeanne Moreau) about their last job. Unfortunately, this leak of information given by the incompetent Riton leads to his kidnapping by Max's competitor Angelo (Lino Ventura) who will demand their last job's loot for ransom. It will all be decided in a tense and masterfully shot gun battle. An engrossing masterpiece with phenomenal direction, acting and cinematography.
Pierluigi Puccini
Super Reviewer
½
this is just an outstanding piece of crime drama and paved the way for many great french gangster films to come, including dassin's rififi and melville's bob le flambeur. jean gabin, making a terrific comeback, is deadly cool as the weary max, out to save his friend and his loot from rival lino ventura, in his first film role. an unknown and almost unrecognizable jeanne moreau plays the woman who comes between them. with a fantastic running gun battle as the finale! i adored this more than any of melville's gangster films except perhaps le doulos. this was my first taste of jacques becker and i want more!
Stella Dallas
Super Reviewer
Touchez Pas au Grisbi (Hands Off the Loot) Quotes
There are no approved quotes yet for this movie.