Grizzly Man
(2005)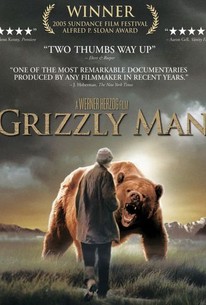 Movie Info
This documentary centers on amateur grizzly bear expert Timothy Treadwell, who periodically journeyed to Alaska to study and live with the bears. The outdoorsman and author -- along with his partner, Amie Huguenard -- was eventually killed and devoured by one of the very animals to whom he had devoted years of study.
Critic Reviews for Grizzly Man
Audience Reviews for Grizzly Man
This has to be one of the most mesmerizing documentaries to come out, possibly ever. Between the hypnotic monotone of narrator and director Werner Herzog, and the out of this world footage from bear aficionado Tim Treadwell, this is a merging that will never be replicated again. The film lets you decide for yourself what the legacy of Tim Treadwell really is, but you cannot deny his energy, focus, and pure love for these creatures. Read more at http://www.bluefairyblog.com/reviews/2015/5/9/grizzly-man
Spencer S.
Super Reviewer
An immediately captivating premise is elevated by Werner Herzog's perfect pacing and elegant editing, and the undeniably beautiful yet eerie, tragically ironic footage taken by Timothy Treadwell, the man who lived for 13 summers with grizzly bears before being eaten by one in 2003. The clearly troubled, possibly insane Treadwell set out to film bears, and Herzog instead turns this wealth of amazing footage on its original, now-deceased filmmaker to create an utterly human story.
Sam Barnett
Super Reviewer
½
The hypocritical execution made this documentary come off as rather unauthentic. A better reenactment/acting (specifically the scenes involving Jewel Palovak were executed horribly. The pretentiousness was quite apparent, at least to me. The scene where Herzog suggests her to destroy the tape was pathetic than sympathetic.) might have helped here. Apart from that flaw, the movie was passable. And passable isn't too bad these days around. 4.5/10.
familiar stranger
Super Reviewer
Grizzly Man Quotes
There are no approved quotes yet for this movie.