Gross Anatomy
(1989)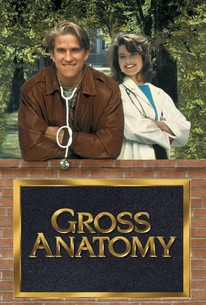 Movie Info
Rebelling against what he sees as a repressive, stuffy environment, a talented but unmotivated young medical student prefers playing the class clown to working. This comedy-drama centers on conflict that arises when a dedicated professor tries to force him to apply himself.
Critic Reviews for Gross Anatomy
Audience Reviews for Gross Anatomy
In spite of its misleading name, this is no horror film but a romantic drama with comedic elements. Daphne Zuniga and Matthew Modine play students in med school surrounded by other med students who, are all driven to excel. Zuniga is very much work focused and rigidly serious but Modine`s character is the somewhat stereotypical "hotshot street smart bad boy" who doesn't care enough. Naturally they are attracted to each other. Two things captured my attention; the grueling pressures associated with the first year of medical school (with a continuing theme of dissecting corpses) and all the stress and strain of coping with the exams and workloads for students from different backgrounds and with different motivations. The interaction with his instructor Dr Woodruf who tries to extract the most from him is very interesting to note.
½
A great film! A favorite.
rather ordinary film with an extraordinary performance by the great Christine Lathi.
Gross Anatomy Quotes
There are no approved quotes yet for this movie.