Grosse Pointe Blank
(1997)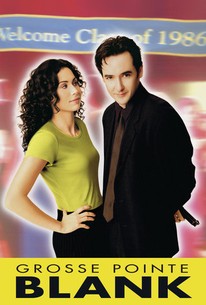 Grosse Pointe Blank Photos
Movie Info
Martin Blank, a professional assassin, is sent on a mission to Gorsse Pointe, a small Detroit suburb. Things get complicated when his ten-year high school reunion is taking placy in the same town.
Critic Reviews for Grosse Pointe Blank
Audience Reviews for Grosse Pointe Blank
A good time at the movies in this fantasy where a hit man goes home to his 10 year high school reunion and the girl he left behind. Nothing serious here, just a fun date movie with loads of danceable 80's songs as well as shootouts wherein the characters insult each other while trying to kill the other: always fun.
Kevin M. Williams
Super Reviewer
½
This sick, twisted little comedy is sweet in many ways and yet demented in all the ways that matter. The premise revolves around John Cusack as a hit man (so believable) going back to his ten year reunion in Michigan, and he gets back together with his ex-girlfriend. I will say that the chemistry between Cusack and Driver is off the charts, and in the end I actually found them to be a very cute couple. Though there's an evolution for Cusack's character, I still didn't see the awe factor in the grand romantic gesture. He is a trained, government employed killer! I don't want quirky, doe-eyed Driver ending up with someone who will be hunted down later in life, their happy ending nothing but a far off mirage in the dust! When it plays into its dark humor, Cusack works incredibly well as an everyman. Still, trying to get us, the audience, to sympathize with you when you've killed how many hundreds of people? That's stretching my imagination a little too thin.
Spencer S.
Super Reviewer
½
This pet project for star, co-writer, and producer John Cusack follows Martin Blank- a former CIA operative turned freelance assassin. He's generally good at his job, and it pays well, but lately his game has been a bit off, and he's starting to tire of it. Following the advice of his secretary and his nervous psychiatrist, he is urged to take a final job in his old hometown of Grosse Pointe, Michigan. Incidentally, the time of the job coincides with his 10 year high school reunion, and, while he's not exactly excited about it, this gives him the opportunity to tie up loose ends with his past, namely reconciling with his school love whom he stood up on prom night and hasn't seen since. On top of all of that, he's got people out to kill him, and is being hounded by his persistent arch rival hitman who has an enticing business offer, and won't take no for an answer. Man, for a romantic action comedy, that sure is one hefty plot! Thankfully the film goes down quite easy, and doesn't end up being quite as laborious and complicated as I've no doubt made it sound. It's breezy, funny (sometimes downright hilarious), quite charming, and feverishly entertaining. Yeah, there's a lot of cliched stuff going on here, but it blends together pretty decently, even though the film could have probably found a way to end that didn't involve delving into a typical action movie climax. It does have a quite snazzy soundtrack though, and the score was done by Joe Strummer, so that's all awesome. John Cusack delivers a typically solid performance full of his trademark mix of charm, likability, and neuroses. His sister Joan is a scene stealing riot as the secretary, Alan Arkin is a lot of fun as the psychiatrist, Dan Aykroyd is wickedly funny as Martin's rival, and then finally we have Minnie Driver as the old flame Debi. A lot of people seem to not like her, but I think she's a decent actress, fairly attractive, and does decently here as the spurned woman with an understandable grudge. The film really isn't groundbreaking, but it is quite well played and never dull. It's primarily a comedy, but the action is done decently too, with my favorite setpiece being the amazingly funny shootout at a convenience store. Overall, this is a nice little entertaining gem. It's definitely a quirky 90s movie, and though it is flawed, it's still an enjoyable ride.
Chris Weber
Super Reviewer
Grosse Pointe Blank Quotes
| | |
| --- | --- |
| Martin Blank: | I possessed a certain moral ambiguity the CIA was looking for. |
| | |
| --- | --- |
| Mr. Grocer: | bang bang bang bang popcorn! |
| Mr. Grocer: | Hey, hey, bing bing bing bing bang! POPCORN! |
| | |
| --- | --- |
| Martin Blank: | i killed the president of paraguay with a for, how have you been? |
| Martin Blank: | I killed the president of Paraguay with a fork. How've you been? |