Grown Ups
(2010)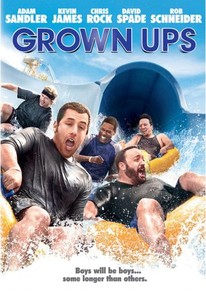 TOMATOMETER
AUDIENCE SCORE
Critic Consensus: Grown Ups' cast of comedy vets is amiable, but they're let down by flat direction and the scattershot, lowbrow humor of a stunted script.
Movie Info
Thirty years after graduating from high school, five former basketball teammates gather at the lake house where they celebrated their biggest victory to mourn the passing of their late coach. Over the course of the Fourth of July weekend, the five friends realize that just because they've all grown up and started families doesn't mean that they've lost that old spark. Adulthood is what you make of it, and no one at the lake house is eager to be the grown-up of the gang. Adam Sandler, Chris Rock, Kevin James, David Spade, and Rob Schneider star in a film written by Sandler and Fred Wolf, and directed by Dennis Dugan (I Now Pronounce You Chuck & Larry, You Don't Mess with the Zohan). Maria Bello, Salma Hayek, and Maya Rudolph co-star. ~ Jason Buchanan, Rovi
News & Interviews for Grown Ups
Critic Reviews for Grown Ups
Audience Reviews for Grown Ups
Adam Sandler's career has been going downhill since the early 2000's. With many disasters year, after year, it's surprising that he still "acts" in films. His brand of comedy is overdone, recycled, boring, and above all unfunny and irritating. In the early days, he was amusing, funny, and his first few early films were watchable. But now, he is awful. Grown Ups is a bad movie, and I view this as a collection of awful, washed comedians that simply don't understand the fact that they are horrible. The cast here are just pointless, and irritating. Grown Ups is the perfect definition of a train wreck. The comedy writing is horrible, and the script is very poorly written, thought out and lazy. There is nothing interesting going on here and the film just fails in grabbing your attention. This is a bad comedy that never should have been made because there are no good, effective comedic bits that deliver genuine laughter. Watch something else; you'll be glad you did. Adam Sandler really should retire because, he no longer has the drive in making you laugh, he once did, but now after a series of box office bombs, he just doesn't seem to care about making a quality film. The guy can't seem to make a funny film anymore, and he just ends up wasting everyone's time by making trash. Grown Ups is not worth seeing, and the comedy here is pointless, poorly thought out, and unfunny. Grown Ups is an awful, lazy comedy that is virtually laugh free from start to finish. Watch a different comedy; you'll be glad you did.
It's lowest common denominator low-brow comedy that kind of works. Sure it's the same washed up cast we see in every comedy, however it's the only film comedians that really have any steam for guys their age. This movie, for what it's worth, was good. It had a lot of recycled jokes, but they were recycled jokes that we have come to love over the years. This film has been panned by critics, but standing alone as my own critic, it's a solid comedy, but nothing more. You may forget about in in a year or so, but hey, every movie will eventually be forgotten someday. This movie is just a film that will give a great hour and forty minutes in the cinemas this summer. Well worth the ticket price to laugh. There hasn't been many good comedies lately, and this doesn't make up for that in any way, but it's not bad. But still, taking everything into account, it's washed up slapstick humor quite often, but for some reason it seems to work, and in the serious dramatic moments, you actually have sympathy. But right after that sympathy, they throw a huge smile on your face, which leaves one thing left to say. These guys still have some punch left, but I still think they should hang up their acting skills, because their comedy is getting old fast.
½
Adam Sandler and his entire clan join together for a somewhat-formidable film in Grown Ups. The film presents the solid chemistry that Sandler, James, Rock, Spade and Schneider possess so naturally. But the film becomes loose as it possess no true plot or storyline besides just the characters themselves. Sandler fans will enjoy the film, as comic moviegoers will only find this a decent summer flick. 3.5/5
Eugene Bernabe
Super Reviewer
Grown Ups Quotes
| | |
| --- | --- |
| Gloria: | Like when Rob snapped at me the other day, that was scary. And you all thought I was so calm, but inside I was saying "Gloria Nunen, do not call him a bug-eyed sociopath with a little man complex. Do not say that his hair makes him look like a dirty q-tip. Or that he resembles an older, gay Jonas Brother. Or a midget, Filipino Fonzi. |
| Gloria: | Like when Rob snapped at me the other day, that was scary. And you all thought I was so calm, but inside I was saying Gloria Nunen, do not call him a bug-eyed sociopath with a little man complex. Do not say that his hair makes him look like a dirty q-tip. Or that he resembles an older, gay Jonas Brother. Or a midget, Filipino Fonzi. |
| | |
| --- | --- |
| Gloria: | I have a confession to make too. I'm really a man. |
| | |
| --- | --- |
| Kurt McKenzie: | I see that ass is still growing. Got a little Kardashian in there. |
| | |
| --- | --- |
| Lenny Feder: | Are you peeing or is a diesel truck turning off? What the hell is that? |