Grown Ups 2
(2013)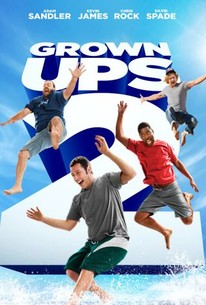 TOMATOMETER
AUDIENCE SCORE
Critic Consensus: While it's almost certainly the movie event of the year for filmgoers passionate about deer urine humor, Grown Ups 2 will bore, annoy, and disgust audiences of nearly every other persuasion.
Movie Info
The all-star comedy cast from Grown Ups returns (with some exciting new additions) for more summertime laughs. Lenny (Adam Sandler) has relocated his family back to the small town where he and his friends grew up. This time around, the grown ups are the ones learning lessons from their kids on a day notoriously full of surprises: the last day of school. (c) Sony
News & Interviews for Grown Ups 2
Critic Reviews for Grown Ups 2
Audience Reviews for Grown Ups 2
Honestly I only half watched this. Usual Adam Sandler crapfest. If you've seen any in the last ten years, you will know exactly what to expect and how far to lower your expectations.
Nicki Marie
Super Reviewer
Grown Ups 2 is a horrible piece of garbage that baffles me because why would they make a sequel to a really bad film. Adam Sandler was pretty funny back when he made Happy Gilmore, Big Daddy and The Wedding Singer, but nowadays, he just makes bad films that have no merit. Grown Ups 2 is such a film, one that doesn't have any good laughs going for it. It surprises me that Adam Sandler still has a career. Every film he makes is unfunny, pointless and a complete waste of time. Really, who wanted a sequel to Grown Ups? The first one was bad, and had no redeeming qualities. This sequel is just as awful. With Grown Ups 2, Adam Sandler just shows how much of a train wreck he has become. When Jack and Jill came out, and it showed us how incredibly awful he had become, I expected him to fall off the map. Well, unfortunately that wasn't to because, this lame comedian still find work. I liked a few of his films, but now, he just doesn't have that spark that made him amusing in such films like Happy Gilmore. Grown Ups 2, is yet again a collection of washed up comedians, who try way too hard at making you laugh with bad jokes and awful acting. This is an awful train wreck of a movie, and Grown Ups 2 joins the list of unnecessary sequels, but this one just stands out because, the original film was awful, and this sequel is just as bad as the original. Don't expect anything from this film because the writing, acting, and direction are just bad. Adam Sandler just recycles his same old routine, and it's just tiresome and painful to watch.
½
Really? a sequel? by now I'm sure we all know what happened and how this film somehow managed to sail high in the charts beating 'Pacific Rim'. Obviously Mr Sandler has a strong core fanbase that will endure anything he throws at them, and boy does he throw some stuff!. The plot is errr...geez I dunno really, there isn't a plot, this film is virtually one skit after another much like SNL. We are still following Sandler's character and his hectic family life, alongside him we are also still following the lives of his best friends too...and that's it. The only thing is there isn't really any point to what happens throughout, its just one set up for a silly childish joke, then on to the next silly childish set up. I guess this wouldn't be too bad if the jokes were funny, you look at classic spoof films like 'Naked Gun' or 'Airplane' and they are merely a collection of visual gag set ups. This film is the same accept the gags are tired, unoriginal and infantile, basically your standard toilet and sexual functions humour. Believe it or not but I actually found this sequel slightly enjoyable in places and better than the first, yep that's right. The main reason for this was the quite horrendously cringe worthy performance by Taylor Lautner and his snobby frat pack which was pure parody excellence. The other reason was the party finale where everybody dresses up in fancy dress, yet they all looked really good haha. Seriously they just looked really good, especially the guy as Tom Cruise from 'Risky Business'. Plus I must also give kudos for the big punch up in the finale which is completely farcical but a definite guilty pleasure in terms of sheer lunacy. I guess it gives you what you pay for, its not like anyone won't know what they're getting themselves into when they go to see this. You see an Adam Sandler film for certain reasons and this film delivers those reasons. So on one level it does its job, the problem is, it is pure pointless garbage in all honesty. The fart and belch gags with James were the worst thing in this film, I mean really Kevin...I thought you were a better comedian than that.
Phil Hubbs
Super Reviewer
Grown Ups 2 Quotes
| | |
| --- | --- |
| Bean Lamonsoff: | The eighties? That was seventy years ago! |
| | |
| --- | --- |
| Lenny Feder: | Open the window. |
| | |
| --- | --- |
| Frat Boy: | I'm Frat Boy Milo, and this is Frat Boy Zack |
| Frat Boy: | I'm Frat Boy Milo and this is Frat Boy Zach. |