Grudge Match
(2013)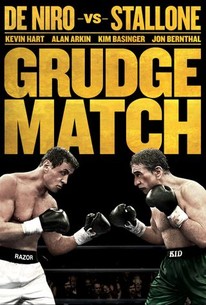 TOMATOMETER
AUDIENCE SCORE
Critic Consensus: Grudge Match is sporadically funny but meandering, and its strong cast largely mired in a plot that's overrun with clichés.
Movie Info
Robert De Niro and Sylvester Stallone star as old boxing rivals who come out of retirement for one final match. On their first encounter in decades, their long-festering feud erupts into an unintentionally hilarious melee that instantly goes viral. The sudden social media frenzy transforms their local grudge match into a must-see HBO event. Now, if they can just survive the training, they may actually live to fight again. -- (C) Warner Bros.
News & Interviews for Grudge Match
Critic Reviews for Grudge Match
Audience Reviews for Grudge Match
½
Well well what's this? the long awaited sequel to 'Raging Bull'? the long awaited follow up in the Rocky franchise? or is it merely an excuse to have Rocky vs Jake LaMotta? Well it kinda felt like all of the above really. The plot sees aging fighters Stallone (Razor) and DeNiro (The Kid) trying to recapture their youth and regain their old pugilistic skills via setting up a big lavish grudge match. Back in their early years they were both top of their game, the best of the best, but which was better? The only fights the pair ever lost in their careers were to each other, one beat the other and vice versa. Just before their old rematch Razor retired which angered Kid, now the game is back on. What I find a little amusing about this is it actually does feel like Rocky Balboa vs LaMotta, both Stallone and DeNiro perform pretty much in the same way they did for both iconic movies. Stallone's character basically is Balboa for Pete's sake, he lives in a typical blue collar area, has a poor paying job in the shipyards and comes across as a soft centred soul. On the other hand DeNiro is a cocky loud mouthed edgy fighter who only wants to win any way he can. Both actors are playing these roles seriously I might add, this is not a silly dumb comedy, its a proper boxing movie. The whole project is so old school and retro it really is, Kim Basinger and Alan Arkin both have leading roles alongside the OAP fighters which made me feel like this was another Expendables type setup. The plot is cliched as hell and utilises every trick in the sports movie book, everything you saw in Rocky basically. At the same time there are some nice references to the lead stars earlier movies and some nice little moments to add a chuckle. Such as Stallone going into a meat locker and is about to slam into one carcass with his fists but is stopped by Arkin who points out they are there to buy meat not hit it. Yeah sure it sounds like a cheap modern day throw away visual gag reference to an older classic movie...and it totally is but it did make me smile a tad. So yes there are plenty of obligatory family issues throughout for both fighters, gotta have those family issues to deal with. Its all so very predictable and painfully obvious what's gonna happen, DeNiro has his long abandoned son to win over...plus a new grandchild to get to know. Stallone loses his crappy job and has old flame Basinger crawling around him who also just happens to be DeNiro's old flame and mother of DeNiro's now grown up son whom he abandoned. Can you feel the pain and anguish surging through here? Despite all the rather dull cheesy hokey drama the movie does end on a solid bit of boxing. Stallone still looks relatively impressive considering his age...DeNiro not quite as much but he does have that epic nasty look in his eye. Both men do look just as impressive in the ring as they did back in the day I must say, they both go at it hammer 'n' tongs and the movie doesn't shy away from the blood sweat and snot. I loved seeing all the old legendary grimaces and scowls from DeNiro during the fight, same can be said for Stallone with his more gormless facial expressions. The film did poorly I have read but honesty I quite enjoyed this for what it was. Basically a purely nostalgic trip down memory lane or a leap back in time with your Delorean. Its pretty much our last chance to see these guys do what they did all those years ago, what made them famous (for Stallone at least). A simple sports flick with a happy ending and lots of retro appeal for guys and girls around my age and up. I really fail to see how any fan of both stars (or any movie fan) could not enjoy this, the films poster says it all and its a corker of a poster too.
Phil Hubbs
Super Reviewer
½
A total blast at the movies that is almost impossible to resist. A real knockout of pure fun and heart. An instant classic. A must-see legendary match up between two great screen legends who totally command the screen together. Robert De Niro and Sylvester Stallone are at their best, they give great performances and shows that it does not matter how old you are but that you still have passion for what you do and these guys still got it and deliver in it perfectly. Stallone and De Niro just get better and better as the years go on. The rest of the cast is top-notch and great to watch. Kim Basinger is terrific. Kevin Hart is hilarious. Alan Arkin is excellent. Jon Bernthal is wonderful. A wonderfully entertaining and wickedly enjoyable movie filled with remarkable character development. outrageous humor and great in-the ring action. A hilarious, charming and heart-filled film that i truly loved. Movies don't get better than this, it has action, comedy, drama, a great soundtrack and just has a great feeling. The final showdown between Stallone and De Niro is simply awesome.
Grudge Match is a mediocre comedy that had a pretty good idea, but it never takes off. The problem with the film is that it has a dull script with many clichés, and it simply wastes its potential because it's a predictable movie that uses elements from other films in order to create something new here. The result is a mediocre movie that just doesn't have anything going for it. I really wanted to enjoy the film, but the film just doesn't have anything interesting going for it. I expected a bit more out of the film, but it just seems like it's a film that is all over the place, it tries to be a comedy and drama, and yet somehow there are times when one aspect outdoes the other, and it diminishes the enjoyment of the film due to the fact that it ends up being predictable and sloppily thought out. I think it's a shame because Grudge Match really could have been a great film that mixed both comedy and drama, but the filmmakers simply couldn't blend the two genres into a well balanced storyline. Therefore it struggles of what type of film it really tries to be. Both Stallone and De Niro have made better films, and their talents are wasted on such a lacking picture. Don't expect a good film as this one just doesn't have anything going for it to make it worth seeing. Grudge Match starts with an interesting idea, but thirty minutes in, loses track of what it tries to accomplish, therefore by the time the credits roll, it becomes a missed opportunity to make a fun, entertaining and ultimately memorable dramatic comedy.
Grudge Match Quotes
| | |
| --- | --- |
| Henry "Razor" Sharp: | Well, I can't be in the same room with that guy. Not worth it. |
| Dante Slate Jr.: | The hell you mean it ain't worth it? I'm looking at your house! |