Guardians of the Galaxy Vol. 2
(2017)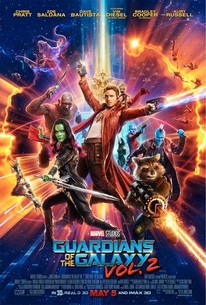 TOMATOMETER
AUDIENCE SCORE
Critic Consensus: Guardians of the Galaxy Vol. 2's action-packed plot, dazzling visuals, and irreverent humor add up to a sequel that's almost as fun -- if not quite as thrillingly fresh -- as its predecessor.
Guardians of the Galaxy Vol. 2 Videos
Guardians of the Galaxy Vol. 2 Photos
Movie Info
Set to the all-new sonic backdrop of Awesome Mixtape #2, Marvel Studios' "Guardians of the Galaxy Vol. 2" continues the team's adventures as they traverse the outer reaches of the cosmos. The Guardians must fight to keep their newfound family together as they unravel the mystery of Peter Quill's true parentage. Old foes become new allies and fan-favorite characters from the classic comics will come to our heroes' aid as the Marvel Cinematic Universe continues to expand.
News & Interviews for Guardians of the Galaxy Vol. 2
Critic Reviews for Guardians of the Galaxy Vol. 2
Audience Reviews for Guardians of the Galaxy Vol. 2
½
Not as fun as the first installment, but still not as bad as I was told. 6.5/10
familiar stranger
Super Reviewer
The fifteen movie in the Marvel cinematic universe, the Guardians travel all over the universe trying to unravel the mystery behind Peter Quill's parentage. That's the plot right there, that's it. So the start of this movie shows us the origins of Quill's parents with a de-aged CGI Kurt Russell, something we've seen before and is becoming more popular. Gotta be honest, this looked very impressive. Twas impressive with Michael Douglas in 'Ant-Man' and its impressive here with Russell. From there we zip straight over to the opening credits which roll whilst the Guardians are fighting a big alien monster. Amidst the chaos Groot plays and jigs to 'Mr Blue Sky' by ELO via Star-Lord's walkman. Its a quirky intro and certainly enjoyable...except for the choice of song, but that's just me. So as I said the basic plot involves Quill finding his father who turns out to be a God-like celestial called Ego (Kurt Russell). Naturally Ego would like to rule the universe with his son at his side, and Quill is curious, but sharply declines after discovering Ego's dark secrets (he killed Quill's mum). Of course whilst all this is going on the other characters have their own little subplots. Gamora is fighting off her sister Nebula once again. Yondu has been hired to capture the Guardians by the Sovereign race because Rocket nicked some precious batteries from them. This causes Yondu internal conflict which results in a mutiny by some of his men. Groot is still slowly growing up, and Drax starts a slow burning romance with Ego's assistant Mantis (Pom Klementieff). Oh and Rocket is still a wise-ass. I think the main thing I noticed with this sequel was the increase in comedy...silly comedy. Its a little bit too obvious that Gunn is trying a little bit too hard with the gags, but anyway. In the first major space battle Quill and Rocket are arguing about who is the better pilot. Rocket remarks that later later on he will put a turd in Quill's bed. But not one of his turds, one of Drax's turds. Drax immediately laughs out loud and proclaims 'I have famously large turds'. Its at this point that I asked myself, are they actually throwing out dialog about poo? Putting poo in each others beds...like school kids would say? By jove they are! I also noted a few other scenes that did make me smile such as Drax ripping on Quill's secret crush on Gamora (unceremoniously revealed by Mantis who can read people's feelings). There is a great little sequence where Groot must find Yondu's head fin so both he and Rocket can escape from his traitorous men. Groot takes about six attempts to find said item as he doesn't really understand and keeps coming back with all manner of things. A tad predictable but nicely done. Quill calling Rocket a trash panda was a good one although the following dialog was a bit laboured. Rocket trying to explain to Groot about which button (the death button that needed to be covered with tape) to press on the bomb to kill Ego etc...OK lets just say that most of the good stuff comes from Rocket when he verbally clashes with the others. As for the main crux of the story which was Peter and his father Ego, meh...it was fine but nothing special in my opinion. In all honesty I don't really think they could of done anything drastically original here and what they did was perfectly fine. But the main problem simply was it was all completely predictable fluff that's been done before. Each step of the way, each beat was wholly formulaic frankly. Peter and Ego get along fine at first as Peter wants to learn more out of curiosity. Ego teaches Peter the basics of his God-like powers. As the subplots all start to come together Ego finally reveals what he's been up to (again its no real surprise) and Peter understands what he and the Guardians must do. Then after a long finale battle with the good guys on the brink of losing, unsurprisingly Peter suddenly conquers his own internal God-like powers and uses them to hold off Ego just long enough for the others to do their bit. That's not to say there is anything wrong with all this per say, it works here, but I can't not mention how utterly corny and conventional it all is. Again in all honesty I also thought the ending was so so very soppy that it almost spoilt the movie. Sure the Guardians have now become a proper family so to speak (ugh! the whole family thing again?) and all the various plots are tied together nicely, but boy do they pile on the schmaltz. I did also found it quite bizarre how the Sovereign are so obsessed with wanting to kill the Guardians because Rocket stole their batteries, Especially as it looks like we'll be seeing more of the same in the next movie from these guys. Its also kinda funny how the makeup for this alien race consists entirely of gold body paint, literally just painting all the actors gold and that's it. Just seems so...made for TV-ish. Odd for such a big blockbuster. Anyway, despite this essentially being more of the same from the first movie, I did enjoy this. I personally found the entire movie to be much tighter with better dialog, better action and a better array of characters. Ego being a surprise decent villain...clearly helped along by casting Russell. Also the combination of Drax and Mantis being a decent surprise double act. Whilst both movies do still feel very cliched and unoriginal, borrowing many elements from many sci-fi movies, for me its the quirky roster of heroes that sells the flick. I can't deny that Rocket is fast becoming a firm favourite of mine. Naturally everything looked slick and shiny, plenty of comicbook nods dotted around, and another retro soundtrack which I didn't really like this time truth be told. I actually thought many of the songs were completely out of place with some of the scenes, but that's just me (dunno what the kids think of these old tunes, do they even know what a walkman is?). Yes I found this movie more enjoyable than the first (which I think was somewhat overhyped). Even though they are clearly trying a bit too hard with the goofy comedy and visual retro love letters to the 80's (although I do appreciate the retro goodness), generally I think Gunn and co have perfected this particular team of space cowboys. What they must not do now is push it too far and spoil it. But I will finish by asking, why am I not seeing a (preferably adult) Howard the Duck reboot yet? Surely I can't be the only one who thinks a Rocket and Howard team up needs to happen?
Phil Hubbs
Super Reviewer
First hour and half was very forgettable, and seemed like a typical action sequel (all of the same notes as the original, done in a less interesting way), but the final 30 minutes were very heartfelt. One of the only Marvel movies that has actually attempted to emit an emotional response from its audience. Color me impressed.
Spencer Macklin
Super Reviewer
Guardians of the Galaxy Vol. 2 Quotes
There are no approved quotes yet for this movie.