Guess Who
(2005)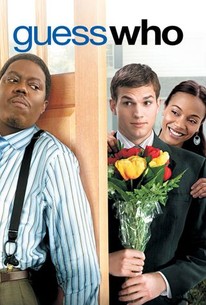 TOMATOMETER
AUDIENCE SCORE
Critic Consensus: Despite the chemistry of its stars, Guess Who, a loose remake of Guess Who's Coming to Dinner, lacks the political relevance of the original.
Movie Info
A man gets a very big surprise when he meets his prospective son-in-law in this comedy. Percy Jones (Bernie Mac) is the understandably proud father of Theresa (Zoe Saldana), a beautiful and intelligent young woman living in New York City. When Percy learns that his daughter is dating someone and things are getting serious, he decides to do some research, and learns that her beau is a solid businessman. Percy arranges to meet the young man, but is a bit taken aback when he comes face to face with Simon Green (Ashton Kutcher) -- Percy and his wife are African-American, and Simon is very, but very Caucasian. When it becomes clear that Simon and Theresa's relationship is likely altar-bound, Percy finds himself suddenly full of misgivings about the young man, especially since Simon tends to get rather clumsy when he's nervous. Guess Who was loosely adapted from the 1967 hit Guess Who's Coming to Dinner, though the race of the prospective father and son have been swapped, and the original film's comic undercurrent has been pushed to the forefront. ~ Mark Deming, Rovi
News & Interviews for Guess Who
Critic Reviews for Guess Who
Audience Reviews for Guess Who
Offensive, to some audiences, Guess Who is an unfunny modern view of Guess Who's Coming to Dinner.
Lucas Martins
Super Reviewer
This is a loose remake of Guess Who's Coming to Dinner with a race reversal, but it seems to have far more in common with Meet the Parents (with a racial twist). Unlike the 1967 film, this bypass serious drama and instead goes for the path of farce. In a way, this film really doesn't have a lot of impact. In 1967, interracial relationships were a far more touchy subject. Now they really aren't that big of a deal. Also, by going for the farce route, there's not really a lot of substance here. There are a couple of really good scenes that go in that direction, but this is mostly just a racial comey of mistrust and misunderstanding. This kind of thing has been done before as well, and also better. This is still mildly passable and decent entertainment though. I laughed a handful of times, enjoyed the performances, and really enjoyed the dinner table scene. That's the best scene, and also happens to be the one touching upon something more deep and meaningful. It's a shame that the rest of the film couldn't be like that. As I said though, this is still an okay film as is. Saldana and Kutcher are both decent, but each has delivered better than this. This is really Bernie Mac's movie. He does a great job of playing the suspicious, sardonic, and mistrusting father who's not too impressed with her's daughter's white fiancee. He's got good chemistry with the rest of the cast, and is just a lot of fun to watch. You don't have to see this movie (even though I am mildly recommending it), but if you do, see it for the performances (especially Mac's), and the aforementioned dinner table scene.
Chris Weber
Super Reviewer
Bethany Murphy
Super Reviewer
Guess Who Quotes
| | |
| --- | --- |
| Percy Jones: | If you're gonna marry one of these women, sometimes it's gonna hurt like hell. And all you can do is admit that you're wrong and know that she's always right. |
| Simon Green: | She's right? |
| Percy Jones: | That's right. |
| Simon Green: | Always? |
| Percy Jones: | Right. |
| Simon Green: | Right? |
| Simon Green: | All right okay, what about all that talk about my dignity? |
| Percy Jones: | Do you love her? Do you want her? Then she's always right. |