Guest House Paradiso
(2001)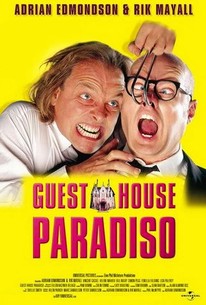 AUDIENCE SCORE
Critic Consensus: No consensus yet.
Guest House Paradiso Photos
Movie Info
Radioactive fish, Italian bombshells, and vomit. These are the key ingredients of this over-the-top gross-out fest about the worst guesthouse in Britain. Former Young Ones star Rik Mayall is Richie Twat (pronounced "Thwaite" as he labors to explain to one and all) who runs the titular hotel with his dull-witted cohort Eddie (Adrian Edmondson). Balancing precariously on a cliff overlooking a nuclear power plant, the hotel is a nightmare from the standpoint of customer service. Richie gleefully abuses the guests, rummages through their luggage, and serves them vile, rotten food. When a nice but impoverished family and an Italian starlet (Gina "Nipples from Naples" Carbonara, played by Helene Mahieau) makes the mistake of staying at their abode, events grow more bizarre and scatological with each passing frame until the film's delirious finale, which has to be the one of the longest and most involved mass puking scenes ever committed to celluloid.
Critic Reviews for Guest House Paradiso
Audience Reviews for Guest House Paradiso
Right lets get down to it then, this is basically the Bottom movie end of story, yeah sure there are the odd changes and snips around the edges but its quite simply Bottom on the big screen. Rik and Ade have played the same type of characters for their entire careers undoubtedly but these two fellas are clearly 'Richie' and 'Eddie' of Hammersmith, I think all the fans can agree on that despite what the guys say. This works for and against the movie in my opinion. Basically we see the many of the same gags, pratfalls and violent slapstick from the TV show...and when I say the same I mean pretty much identical. The only difference is of course its been fleshed out on the silver screen with a better budget so everything looks slicker. Again this is not a problem essentially, I am very happy to see Rik and Ade knock seven shades of shit out of each other with the use of bigger and better effects...to a degree. But at times during the film I did find myself thinking they are rehashing too many old classic sight gags, verbal gags and violent gags and somehow it doesn't actually look as good! How is this possible you might ask, well personally I think its down to the fact the TV show was actually more adult than the film and much more grittier. The constraints of the TV show elevate the material because it feels more anarchic and wild yet at the same time restricted, the stunts and effects are slapped together and seem really dangerous and realistic, plus the lack of any swearing somehow made it feel even ruder and filthier which I can't workout, the tempting hints I guess. In this film everything just seems a bit slow and tired, the guys are obviously not as young anymore but the fights and pratfalls just feel weaker and less inventive. 'Pheeb...One boiled egg.' The sets in the film are nice and have that classic typically dated British seaside B&B visual atmosphere and vibe going on. Watching carefully I loved all the old set decorations strewn around the hotel like the old paintings and historic furniture. The kind of stuff your gran had when you were a kid back in the day, or even your parents back in the late 70's and 80's (if you're around my age). I also really liked all the little nooks, crannies and secret passage ways throughout the hotel which are used by Richie to spy on people and pinch things. It all adds more scope and depth to the setting plus adds inventive ways to create more laughs...which it does nicely in one sequence. So the films visuals around the hotel do look good n grimy as you'd expect, certain props are used disgustingly well used for various painful moments and the sets are well designed reflecting that classic Bottom feel from the Hammersmith flat. The extra cast members are a solid oddball bunch that back at the time were relatively unknown but have now gone on to bigger things, most notably Bill Nighy and Simon Pegg. Neither of the pair actually have massive parts in the film of course as it all revolves around Richie and Eddie, but they add a much needed boost to the overall quality. Nighy probably gets the best of it with his face-off against Mayall in some classic Fawlty Towers-esque scenes at breakfast. Never really liked the character or performance from Cassel as it just felt way out of place really, other than that I still don't get why they didn't cast all their old school mates from previous shows, we get 'Spudgun' so what about the rest? 'Mmm Lady Diana Princess of Wales...slap me up you bitch' Despite some great looking bits n pieces and some decent scenes of Mayall madness and campness, at the end of the day I couldn't help but feel slightly underwhelmed by the whole thing. I think like most folk I went into this with really really seriously high expectations from the pairs glittering TV career and basically the film could never live up to that. Don't get me wrong the guys have a bloody good go and the movie definitely delivers what you want from the duo in terms of crude crass vomit inducing toilet humour. I just really think this should of been a much stronger blend of their live stage show and the TV show, it should of been an all out adult comedy really. They try their best but it really feels like the laughs are being forced out after a bad spell of comical constipation. Was never too sure on that film title either.
Phil Hubbs
Super Reviewer
Watched this a few hundred times, big fan of bottom!
Shawn Montague
Super Reviewer
½
Rik Mayall and Ade Edmondson (as well as Simon Pegg and Bill Nighy in pre-Hollywood roles) revive cult TV series Bottom in what can best be described as a cross between Fawlty Towers and Itchy & Scratchy. It's strength is in some of the throwaway lines, but the slapstick violence often gets a little tiresome (how many times do you really need to see someone hit in the groin?) It's tasteless, crass and completely lacking in subtlety. It's also occasionally very funny. Hardly a classic, but far from the worst TV comedy to film adaptation.
Guest House Paradiso Quotes
There are no approved quotes yet for this movie.