Guilty Bystander
(1950)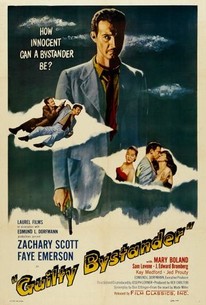 AUDIENCE SCORE
Critic Consensus: No consensus yet.
Movie Info
Zachary Scott plays Max Thursday, an alcoholic ex-police detective working as a bouncer at a sleazy rooming house owned by Smitty (Mary Boland), a likeable, earthy old lady. Thursday's former wife, Georgia (Faye Emerson), shows up one night, while her ex-husband is in an alcoholic stupor, to tell him that their three-year-old son Jeff is missing, taken by her brother, Fred, on some errand from which he did not return. Thursday goes after his ex-brother-in-law's employer, Doc Elder (Jed Prouty), a broken-down physician with a shady past, who manages to get the former cop drunk before knocking him cold. Awakening in a police cell, Thursday is questioned by his former boss, Capt. Mark Tonetti (Sam Levene), about where he was last night, and who might've murdered Doc Elder. Thursday has no choice but to stay sober as he tries to trace the leads he has left. No one admits to knowing anything about the person named Saint Paul, who Elder was meeting, so he tries to find the man Elder was afraid of, Otto Varkas, a notorious smuggler. Varkas (J. Edward Bromberg) isn't much help, though he reveals that he is worried about a hired killer named Stitch Olivera (Elliott Sullivan). While leaving Varkas' office, Thursday spots Angel (Kay Medford), a "business girl" he last saw near Elder's building. He finds out that she's the girl Fred was seeing, and that she's got him on ice, wounded, but he hasn't said anything about a kid; he also won't reveal the whereabouts of the package that he was picking up for Doc Elder (a diamond necklace worth 400,000 dollars) which was to go to Saint Paul. Before they can get to Fred, two of Varkas' men grab him, and Thursday is just drunk enough from his stop with Angel to be unable to stop them. He tries to get to Varkas, but the gang leader and his men are killed and Fred is taken by Olivera. Thursday fights off the hit man in a vicious battle in a Brooklyn subway station that leaves him with a clue that to his astonishment seems to point Thursday back where he started: to the rooming house where he lives. He pieces it together through a fading alcoholic haze, and figures out what's been bothering him about Olivera being a step ahead of him each time he was getting close to Fred: Smitty is Saint Paul, and has been manipulating Thursday since he left with Georgia. The wounded Fred tells the ex-cop what he knows, and Thursday, sober and focused for the first time, takes Olivera in a sudden explosion of gunfire. Ignoring Smitty's offer of a half-share from the sale of the jewels, he calls police headquarters and then his wife, so they can go and get their son together.
Critic Reviews for Guilty Bystander
Audience Reviews
There are no featured reviews for Guilty Bystander at this time.
Guilty Bystander Quotes
There are no approved quotes yet for this movie.