Guilty Of Romance
(2013)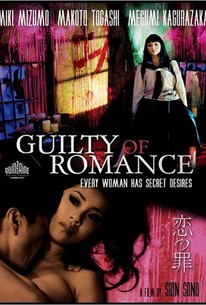 Movie Info
A dramatic account of three women and their lives, seen through the looking glass of sex, words, madness, death, and family, Guilty of Romance - the new crime noir from the award-winning director Sion Sono (Love Exposure, Cold Fish) - tells the tale of three women entangled in a mystery...a mystery that is the gate to a hell -bound love like no other! Bombarding the audience with graphic images and assaulting the emotions with classical music, Sion Sono has produced a movie that provokes all your senses, blending genres of film noir with drama and mystery, and showcasing the directors trademark style and use of vivid colour to portray emotion and mood, Guilty of Romance is the final and most exhilarating part of Sono's "hate" trilogy.
News & Interviews for Guilty Of Romance
Critic Reviews for Guilty Of Romance
Audience Reviews for Guilty Of Romance
½
Still trying to get my mind around this one! Story about a woman who slowly becomes unhinged as she gets into nude modeling by chance and then meets a beautiful but also deranged older woman who lures her into prostitution. There's also a murder mystery here, but it's pretty secondary to the main story which plays out like a nightmare. I seriously started to question what was real and what was imagination here. Really a good, compelling and original movie which is a little twisted. I could not look away from it. The scene with the friend and her mother at the table is also hilarious. (not sure if it was meant to be, but it tickled me, these two smiling politely while saying awful things about each other). Actually behind that is a really sad story about incest and abuse, but at face value it is funny. Though there's obviously some really tragic stuff here including spouse abuse, it is not really played out that way. More like a cautionary tale about giving in to your dark side. Liked it a lot.
Nicki Marie
Super Reviewer
guilty of romance is adapted from a true criminal case happened in tokyo at the end of nineties. it happened in the love-hotel district where prostitutes and adulters hanged around. the woman's body was decapitated and her limps mutated to be restitched with a sex doll. japanese crime-noir director sino sono re-invents the story loosely based on the true event, and it becomes guilty of romance. if tossed in the realm of comparative cinema, guilty of romance could be a japanese version/interpretation of catherine deneauve's belle de jour for sharing the element of middle-class prim housewife suddenly going slutty for a curious taste of sweet debauchery, a swallow of the forbidden fruit.(mockery on bourgeois hypocrisy) except it's blended with lots of gory blood dipped in semen, incest and murder as well as a dose of unfulfilled plantonic lesbianism. from the version i view (there's still another version un-available in my region), there're two major stories concerning two women's descendences into corruptions: a housewife and an university literature professor. the movie adapts an intertextual reference of kafka's castle to anchor the psyche of female transgressions since the ultimate victim(literature professor) in this picture has an obsession with kafka's castle, and she even compares the love-hotel district as a castle of lust where people're entangled by the excess of desire. as for herself, she's bounded in a continuous relationship of incest with her father, who's also a literature-professor and his favorite book is kafka's castle until his death. the film creates a sense of disturbance by the dichotomic juxtaposition of classy etiquettes and seedy circumstnaces. mahler's symphony n. 5 is played throughout the picture in one soft-core pornographical scene after another as an attempt to give the course of human decadence a refined poetic interpretation. "welcome to the hell of love" is a slogn loudly announced in the picture as one woman acts as the mephistopheles who introduces another (faust) into the domain of self-acknowledge, a journey of exploring her darkness within, testing the depth within the abyss of her lust. in other words, how low a woman could descend in her wild pursuit of sex? it's about two seemingly proper and dignified women's lives at night, volunteering to do street-prostitution for the sake of pleasure. despite the crime in the film seems misogynistic, like an outrageous violence against woman, whose genital is brutally hollowed out, whose head is deprived to be assembled with a dead object (plastic sex doll). it does sound like an expression of extreme hatred toward the woman, and inevitably the premise would guide you into one of those american serial killer movies where gender-cide is a prevailing topic. (thanks to ted bundy and ed gein, texas chainsaw massacre) but it's NOT. this is a crime scene devoid of man, a psychological torture-chamber between the womankind since the killer in the end is the professor's mother who resents her daughter for monopolizing her husband's affections. all the women here are trapped within the castle of love and lust, which are in the peculair "circle of human feelings" where lust is permissible as long as you don't violate the rules or trespass the boundaries (according to ruth benedict's book on japanese ethnology "sword and chrysanthemum"), something not to be measured by the puritanical/christian standard of the west. but in this case, what these women are guilty of is not lust or love or romance (the english translation is quite catchy indeed, but also confusing), but the crime of failing to discern the boundaries between them. universally, isn't it what film noir (or any kind of noir) is about? the protagonist's dysfunction to discern between love and sex, often entwined in a romance without love, or deeming the object of your lust as the goddess of your ritualistic human sacrifice. (ps) this movie changes my impression of japanese females.. the women in this picture are just SO sensual and sexy..one of them is just SO voluptuous. of course, she is also former model of some erotic photography. (which means not your typical girl-next-door lily man adores..but a special case...i simply ADORE special case in almost anything! ha)
Veronique Kwak
Super Reviewer
Guilty Of Romance Quotes
There are no approved quotes yet for this movie.