Gumshoe
(1971)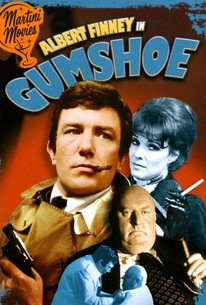 Movie Info
Private eye Eddie Ginley (Albert Finney) thinks he's Bogart -- if Bogie was a compere at a Merseyside bingo -- but his latest case may have bamboozled even Raymond Chandler himself. Accompanied by a mesmerising Andrew Lloyd Webber score, Frears' post-modern dismantling of the American detective genre revels in British locations and wonderfully earthy wordplay. You'll never look at a raincoat in the same way again. Here's looking at you -- Eddie?
Critic Reviews for Gumshoe
Audience Reviews for Gumshoe
I love Albert Finney but Humphrey Bogart he ain't.
½
Stephen Frears hit the big time, see, with 1971's "Gumshoe," a likable detective yarn. It was the acclaimed director's first theatrical feature, and he didn't direct his second until eight years later. Albert Finney stars as Eddie Ginley, who's feeling restless in his crummy job as a Liverpool nightclub emcee. He fantasizes being a fast-talking detective as found in pulp fiction and old movies, and places an advertisement in the local paper. Shortly, he is contacted by someone who gives him a mysterious envelope containing a woman's photo, a wad of money and a gun. The story unfolds from there. The details of the case are hard to follow, but it doesn't really matter. The film's thrust is just the stylized rhythm of its dialogue and its winking homage to the Sam Spade/Philip Marlowe archetype. "Gumshoe" can't be labeled a mere spoof, however -- it aims for smiles rather than laughs, and plenty of scenes have a dramatic tone. The prime targets of Eddie's wit are his brother William (a wealthy jerk whose shipping business may be crooked) and William's wife Ellen (Billie Whitelaw). Ellen is Eddie's former lover whom the more stable William stole away, but she still holds onto her feelings for Eddie. The crackling chemistry between Finney and Whitelaw is easily the film's greatest virtue. Two other enigmatic women dip in and out of Eddie's investigation, but don't quite make a mark like they should. A rival detective (Fulton Mackay) has some sharp moments, however. Music fans should note that the young Andrew Lloyd Webber composed the film's score -- a rare undertaking for him.
Eric Broome
Super Reviewer
Gumshoe Quotes
There are no approved quotes yet for this movie.