Gun
(2011)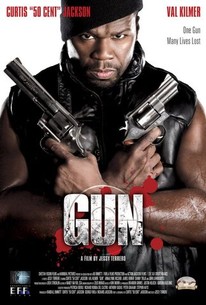 AUDIENCE SCORE
Critic Consensus: No consensus yet.
Movie Info
Detroit gun runner Rich (Curtis "50 Cent" Jackson) works to sniff out a traitor in his midst after being targeted by the FBI and having barely surviving a weapons deal gone awry. Rich was all set to unload a serious supply of firepower when the bullets started to fly, and Angel (Val Kilmer) saved his life. Later, as the investigation heats up, Rich's lover and supplier Gabriella (Anna Lynne McCord) starts getting paranoid. When Gabriella too finds herself on the bad end of a botched exchange, the stage is set for a shocking revelation that will rock the entire Detroit underworld.
Critic Reviews for Gun
All Critics (1) | Fresh (0) | Rotten (1) | DVD (1)
Jackson looks to shape a new iconic crook for the masses, rolling moldy streetwise clichés and John Larroquette (of course) up into a limp thriller from the director of Soul Plane.
Audience Reviews for Gun
A sharp, tense and explosive crime-thriller. It has a full clip of action, suspense and intense characters. Curtis Jackson and Val Kilmer are terrific, these guys work well together in their projects and bring alot of strength to their characters.
Very short film with a very unoriginal and pointless plot simply revolving around Kilmer getting out of prison and getting friendly again with an old friend (sort of) in 50cent and his ruthless gang, from then on they gun run together whilst Kilmer is relaying info to the cops to get himself freed from jail for good. The whole film is one big typical cliche and frankly not much of a good example for young black boys, I really dunno why people continue to glamorise gang/rap culture as it does give the younger generation, mainly black, the wrong idea. In this we see, as usual, a cliched black gang gunning down other gang members to the sounds of horrendous rap music which of course is about violence and guns  ::) is this really needed? Curtis Jackson (50) is a poor actor and to be honest Kilmer doesn't do much better inbetween the mindless banter from cops and gangsters, the whole thing is just a complete waste of time and as said an advert for gang culture and guns! the question is what has happened to Kilmers career and why reward these 'rap artists' with film roles that do nothing accept give black males a bad image (unless they are rich rappers of course).
Phil Hubbs
Super Reviewer