Gun Woman
(2014)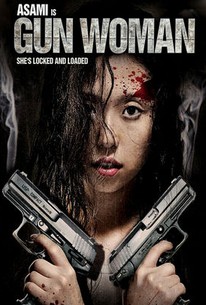 AUDIENCE SCORE
Critic Consensus: No consensus yet.
Movie Info
A brilliant doctor on a quest for revenge buys a young woman and trains her to be the ultimate assassin, implanting gun parts in her body that she must later assemble and use to kill her target before she bleeds to death.
Critic Reviews for Gun Woman
There are no critic reviews yet for Gun Woman. Keep checking Rotten Tomatoes for updates!
Audience Reviews for Gun Woman
Crazy crazy concept and highly original from this Japanese film. Man wanting revenge trains a young woman to be the ultimate assassin. In order to get to her target he implants gun parts in her body and she has to later cut them out, assemble them and kill her target before she bleeds out. Great fighting, effects, and action sequences. Climax of the movie is pretty crazy. Her training is also brutal and rigorous. Only the Japanese could bring a film like this to light. One of the only films I've seen where the heroine kicks a huge dude's ass while completely naked. Some of the scenes are fairly bogged down but this is still worth a watch.
Patrick Wrye
Super Reviewer
This Japanese action/slasher movie is a B grade quality written and directed by Kurando Mitsutake. From the opening scene you'll know what re you dealing with. Completely ridiculous story, and if you choose to watch it, you could enjoy it if you can disregard the most lame dialogues and poorest acting of some of the characters. [img]http://cdn.zfilmeonline.org/image/Gun%20Woman%20(2014).jpg[/img] The story of a rich depraved man (Noriaki Kamata) who kills the wife of a doctor (Kairi Narita) was engaging - if you can handle stuff like this. I mentioned that, because the first man makes a routine of doing things like this, and he likes killing, raping, and sometimes killing and then raping the dead body!!!! The doctor, years later, buys a drug-addicted woman, Mayumi (Asami), and trains her to be an assassin to kill the one who murdered his wife. Shallow story, very bad acting by a couple of American assassins (Matthew Miller and Dean F. Simone), too much gore... are just few of the bad things in this movie. On the other hand, the Japanese stars were up to the task! Asami's transformation from drug addict to assassin was outstanding, Kairi Narita is intense in his quest for revenge, and Noriaki Kamata makes for a wonderfully despicable villain. If you are in a mood for a semi-silly B-movie that's being watched primarily for the ridiculous premise - this must be your movie!
Gun Woman Quotes
There are no approved quotes yet for this movie.