Gunfight at the O.K. Corral
(1957)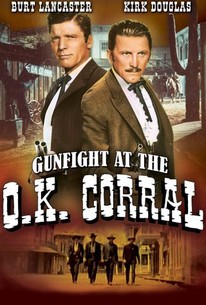 Gunfight at the O.K. Corral Videos
Gunfight at the O.K. Corral Photos
Movie Info
Of the many filmed versions of the October 26, 1881, O.K. Corral shootout in Tombstone, Arizona, Gunfight at the O.K. Corral was one of the most elaborate and star-studded. Burt Lancaster plays Wyatt Earp, the renowned lawman, while Kirk Douglas is consumptive gambler (and gunfighter) Doc Holliday -- the two meet in difficult circumstances, as Earp discovers that Holiday, for whom he initially feels little but loathing, is being held on a trumped up murder charge and being set up for a lynching, and intercedes on his behalf. The action shifts to Dodge City, Kansas, where Earp is marshal and Holiday, hardly grateful for the good turn, shows up right in the middle of all kinds of trouble, this time mostly on Earp's side of the ledger. And, finally, the two turn up in Tombstone, Arizona, where Wyatt's brother Virgil is city marshal, and where Wyatt finally gets to confront the Clanton/McLowery outlaw gang (led by Lyle Bettger as Ike Clanton). Since the time-span of the actual gunfight was at most 90 seconds, the bulk of the film concerns the tensions across many months leading up to the famous battle. As scripted by Leon Uris (from a magazine story by George Scullin), the story involves two unrelated but parallel plot-lines -- a long-standing vendetta against Holliday and the efforts of Earp to bring the Clanton/McLowery gang to justice -- that are eventually drawn together on the streets of Tombstone. Woven into these proceedings are Earp's and Holliday's romantic dalliances with lady gambler Laura Denbow (Rhonda Fleming) and Kate Fisher (Jo Van Fleet), whose switch in affections from Holiday to outlaw fast-gun Johnny Ringo (John Ireland) only rachets up gambler's rage and the reasons behind the bloody climax. There are plenty of bribery attempts, terse dialogue exchanges and "Mexican standoffs" before the inevitable gunfight takes place. Director John Sturges takes some dramatic license with this confrontation, as well, stretching things out to nearly six minutes, but this is after all an "A" production, and a minute-and-a-half of gunfire just wouldn't cut it. The huge cast of western veterans includes Earl Holliman as Charles Bassett, Dennis Hopper as Billy Clanton, Kenneth Tobey as Bat Masterson, Lee Van Cleef as Ed Bailey, Jack Elam as Tom McLowery, and John Hudson, DeForest Kelley and Martin Milner as Virgil, Morgan, and James Earp, respectively. And there's that Dimitri Tiomkin score, pushing the movie's momentum as relentlessly as the two driven heroes, complete with a song (sung by Frankie Laine) underscoring the major transitions of scenes that's impossible to forget, once heard. Sturges himself would produce and direct a more fact-based and realistic version of the story -- focusing mostly on its aftermath -- a decade later, entitled Hour of the Gun, starring James Garner, Jason Robards, Jr., and Robert Ryan, which wasn't nearly as attractive or successful. But after Gunfight At The OK Corral, there would not be so impressive a lineup of talent at the OK Corral again until the twin Earp biopics of 1994, Wyatt Earp and Tombstone. ~ Hal Erickson, Rovi
Critic Reviews for Gunfight at the O.K. Corral
Audience Reviews for Gunfight at the O.K. Corral
½
The Wyatt Earp-Doc Holliday legend got another going-over in this rather good Western. Burt Lancaster and Kirk Douglas portray these larger-than-life gunfighters, who shoot it out with the nefarious Clanton family in 1881 Tombstone. The movie effectively builds up its tension until the climactic gunfight. Believe me in this story is half fictional because of the wife of Wyatt Earp and the battle of O.K. Corral.
Dean McKenna
Super Reviewer
Burt Lancaster and Kirk Douglas make an okay movie great. Burt Lancaster is the agressively moral lawman, Wyatt Earp. Kirk Douglas is Doc Holliday, a man whom trouble "just seems to follow" as he goes about from town to town and saloon to saloon, gambling and drinking himself to an early grave (he was in fact dying of Tuberculosis). His woman Kate (Jo Van Fleet) has a vicious love/hate affair with him (she loves him, he hates her), that will eventually lead him to the famous gun battle at the O.K. Corral. Historically accurate or not, the film packs quite an entertaining wallup, with even the ensemble cast (a young Dennis Hopper and a young DeForest "Dr. Bones McCoy" Kelley) giving excellent performances. There's the grandeur of an epic here, even if the film itself doesn't live up to it. And as the famous gun battle draws closer, the film stumbles over itself trying to justify the battle taking place at all, falling down to a basic revenge scenario. It's a great battle none-the-less. The most odd thing about the film is the Frankie Laine title ballad, which is so incongruous to the atmosphere of the film it's almost laughable. And yet, I can't get the damn song out of my head. "Ok... Corral..."
Devon Bott
Super Reviewer
½
Entertaining enough western shot in beautiful Vista vision. It's no My Darling Clementine...but it will do in a pinch
Ken Stachnik
Super Reviewer
Gunfight at the O.K. Corral Quotes
There are no approved quotes yet for this movie.