Gunga Din
(1939)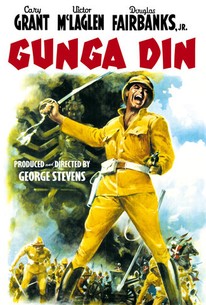 Movie Info
Though Rudyard Kipling's poem Gunga Din makes a swell recital piece, it cannot be said to have much of a plot. It's simply a crude cockney soldier's tribute to a native Indian water boy who remains at his job even after being mortally wounded. Hardly the sort of material upon which to build 118 minutes' worth of screen time-at least, it wasn't until RKO producer Pandro S. Berman decided to convert Gunga Din into an A-budgeted feature film. Now it became the tale of three eternally brawling British sergeants stationed in colonial India: Cutter (Cary Grant), McChesney (Victor McLaglen) and Ballantine (Douglas Fairbanks Jr.). Ballantine intends to break up the threesome by marrying lovely Emmy Stebbins (Joan Fontaine), while Cutter and McChesney begin hatching diabolical schemes to keep Ballantine in the army (if this plot element sounds a lot like something from the Ben Hecht and Charles MacArthur play The Front Page, bear in mind that Hecht and McArthur shared writing credit on Gunga Din with Joel Sayre and Fred Guiol; also contributing to the screenplay, uncredited, was William Faulkner). All three sergeants are kept occupied with a native revolt fomented by the Thuggees, a fanatical religious cult headed by a Napoleonic Guru (Eduardo Ciannelli). Unexpectedly coming to the rescue of our three heroes-not to mention every white man, woman and child in the region-is humble water carrier Gunga Din (Sam Jaffe), who aspires to become the regimental trumpeter. Originally slated to be directed by Howard Hawks, Gunga Din was taken out of Hawks' hands when the director proved to be too slow during the filming of Bringing Up Baby. His replacement was George Stevens, who proved to be slower and more exacting than Hawks had ever been!
Critic Reviews for Gunga Din
Audience Reviews for Gunga Din
½
Cary Grant and company ruin a lot of brown peoples' days, 1800s-style. Loosely based on the poem by Rudyard Kipling, follows three british military officers as they party and fight their way through Indian deserts. When they're not getting drunk and beating up each other, the three army pals are taking on the thugee cult, fist-pummeling dozens upon dozens of angry thugs. Gunga Din is a fun movie, and it was apparently a huge inspiration to Steven Spielberg, as it was a source of major inspiration for "Indiana Jones and the Temple of Doom".
Devon Bott
Super Reviewer
½
This movie was better than I expected, and I loved Cary Grant in the movie, it was the ending that I liked best. The movie has some boring scenes, and the story is a bit silly. I wasn't sure what to rate this movie, you'll have to see it for yourself.
Rudyard Kipling's poem is translated to the screen by the pulsatile direction of George Stevens. The best thing about this classic adventure is the chemistry between the great actors involved in it, they are all charming and funny, a magnificent triumvirate formed by Cary Grant, Douglas Fairbanks Jr. and Victor McLaglen; with special mention to Sam Jaffe as their humble and valiant waterboy Gunga Din. Along with 'The man who would be king' this is probably the peak of the "colonial" adventure movies, in both are explored always relevant themes like greed, vital quest and the value of friendship. Sheer and unadulterated joy.
Pierluigi Puccini
Super Reviewer
Gunga Din Quotes
| | |
| --- | --- |
| Guru: | I want to find out about your Army. |
| Archibald Cutter: | Why don't you enlist, mate! |
| | |
| --- | --- |
| Archibald Cutter: | You're a better man than I am, Gunga Din. |