The Guns of Navarone
(1961)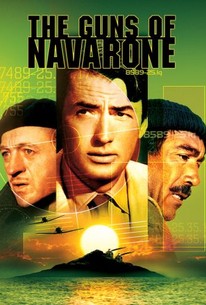 The Guns of Navarone Videos
The Guns of Navarone Photos
Movie Info
This spectacular World War II epic finds 2,000 trapped soldiers on a Greek island by Nazi invaders. Their only hope of escape is by boat. A small party led by Mallory (Gregory Peck) must make it by the radar station and immense firepower at Navarone. Miller (David Niven) is the demolition expert needed to sabotage the fortress. The men must scale the massive cliffs in order to blow up the enemy stronghold. Anthony Quinn plays the Greek resistance officer who battles with Mallory. Stanley Baker, Richard Harris and James Darren also star in the $6,000,000 production. Musical score is provided by Dimitri Tiompkin.
Critic Reviews for The Guns of Navarone
Audience Reviews for The Guns of Navarone
½
A group of soldiers must blow up a bank of guns in order to get a strategic advantage in WWII. This film starts out as a basic "guys on a mission" movie, a propagandistic glory epic typical of post-WWII cinema. Toward the beginning, the indomitable Gregory Peck might as well be the swaggering John Wayne, and David Niven could be the wise-cracking Lee Marvin in Cat Ballou. But as the plot thickens and we get to know the characters, the film grows a soul. The efficacy of violence and the cold-heartedness of Mallory become relevant social themes in lieu of performative bad-assery. Miller (Niven's character) serves as the film's conscience, and no one can have a more articulate conscience than the voice and wit of David Niven. It takes a while, but questioning these characters' ethics serves to deepen the film's effectiveness. Overall, "guys on a mission" films can be trite and uninteresting, but this one rises above its genre by the end.
Jim Hunter
Super Reviewer
½
A classic action-adventure that even it's time, can still deliver the goods. Two and half hours of pure excitement and intelligence. One of the greatest action-adventure films ever made. A masterpiece. An exciting, riveting and action-packed thrill-ride. A smart, well-crafted and suspenseful piece of film-making that works extremely well. A tremendously entertaining and vastly epic movie. A trio of brilliant performances from Anthony Quinn, Gregory Peck and David Niven. They are a charming pair of heroes who all have the goods to take down the bad guys and save the day. These particular brand of films still work and have energy and skill to blow away other films of today who have tried to accomplish what this one has.
An exciting action film about WWII. David Niven is a little absurd, and the romance story was not executed as well as it could have been. Nevertheless, its a favorite war film of mine.
Christian C
Super Reviewer
The Guns of Navarone Quotes
There are no approved quotes yet for this movie.