A Guy Named Joe
(1944)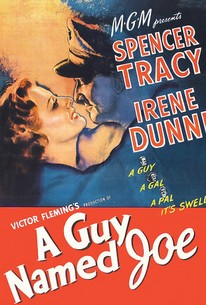 Movie Info
Opening in England during the middle of World War II, A Guy Named Joe tells the story of Pete Sandidge (Spencer Tracy), a tough, devil-may-care bomber pilot who's amassed an enviable record in combat, mostly by taking chances that give his C.O. (James Gleason) the shakes, much as he and the top brass appreciate the results. Pete lives to fly, but he also appreciates the fairer sex, which for the last couple of years means Dorinda Durston (Irene Dunne), herself a hot-shot air-ferry pilot. She's also worried about the chances he takes, even after Pete and his best friend, Al Yackey (Ward Bond), are transferred to Scotland and switched to flying reconnaissance missions. Pete finally agrees to take a training position back in the States, but he must fly one last mission, to locate a German force threatening an Allied convoy. He and Al do the job and have turned for home when the German fighter cover attacks; Pete's plane is damaged and he's wounded, and after his crew bails out he takes the burning ship down and drops his bomb-load on the main German attack ship (a carrier, which is totally inaccurate) at zero altitude. His plane is caught in the blast and destroyed, and that's where the main body of the movie begins.Pete arrives in a hereafter that's a pilot's version of heaven, including a five-star general (Lionel Barrymore). He doesn't even appreciate what's happened to him until he meets Dick Rumney (Barry Nelson), a friend and fellow pilot who was previously killed in action. It seems that the powers of the hereafter are contributing to the war effort, sending departed pilots like Pete and Dick to Earth to help guide and help young pilots; Pete himself discovers that he benefited from these efforts in peacetime. Pete ends up at Luke Field near Phoenix, AZ, where he takes on helping Ted Randall (Van Johnson), a young pilot who lacks confidence. By the time he's done, riding along while Ted "solos," Ted is a natural in the air and ends up as the star of his squadron when he become operational in New Guinea -- in a group under the command of Al Yackey -- and ends up taking over command when their own leader is shot down. Pete's like a proud teacher, and also enjoys his unheard ribbing of Al and his ex-C.O. to Rumney, over their promotions, but then Dorinda shows up, and suddenly Pete finds all of his unresolved feelings about her recalled, even as he sees that she's never gotten over losing him. And when, with Al's help, she and Ted meet and seem to fall for each other, Pete's jealousy gets the better of him. It's only when he is made to realize just how important life was to him, and how important the future is for those still living, that he begins to understand that he has to let go of his feelings, and let Dorinda and Ted get on with their lives. But first he has to help Dorinda survive a suicide mission that she's taken over from Ted, attacking a huge and heavily defended Japanese ammo dump. ~ Bruce Eder, Rovi
Critic Reviews for A Guy Named Joe
All Critics (6) | Top Critics (2) | Fresh (4) | Rotten (2)


What begins as a nice romantic fantasy turns into a schmaltzy melodrama about love and war, but it reflected the national mood and thus became a huge commercial hit.
Audience Reviews for A Guy Named Joe
Was there ever an actress more intelligent, more beautiful, than Irene Dunne? And never an Oscar winner. This one's a little hokey, but a beautiful double love story. The movie that made Van Johnson a star.
Lanning : )
Super Reviewer
A Guy Named Joe Quotes
There are no approved quotes yet for this movie.