Guys and Dolls
(1955)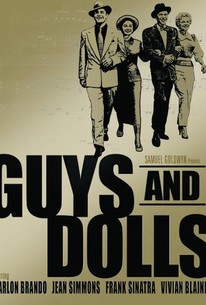 Movie Info
When Sky Masterson is challenged to take a missionary to Havana, he finds himself falling in love. But will she return his love when she realizes the trip was a ploy?
Critic Reviews for Guys and Dolls
Audience Reviews for Guys and Dolls
½
The opening says it all. Or rather, shows it. A beautifully choreographed piece sets the tone of the film, the city, and the characters. As we follow a watch being stolen numerous times, it shows us the petty crime, and the fun and exuberant dances show us the whimsical nature. Sinatra is great as Nathan Detroit, and Brando shows us a completely new side to himself. Sure, his singing may have been cut and pasted from multiple takes, but cinema is all abut creating illusions. The film may be gentle and obvious, but none can deny the sheer excellence of routines, such as the sewer craps game. Making good use of color, movement, humor, and songs, this is a classically addictive film.
Luke Baldock
Super Reviewer
½
If you don't think Brando has range, you need to see this movie. I love it, the songs are good, the actors are good, the story is interesting, and it's exciting and romantic too. I love it.
½
Bouncy MGM musical set during the late 1940s detailing the activities of petty criminals and professional gamblers in New York . Nathan Detroit bets that Sky Masterson can't take uptight, ultraconservative Sarah Brown to Havana on a date. Detroit hopes to win $1000 so he can secure a place for his crap game. As with most musicals, the plot is merely an excuse to sing a lot of songs. The enjoyable score includes such classics as "Sit Down, You're Rockin' the Boat", "Luck Be a Lady" and "Fugue for Tinhorns". The cinematography, costumes and Michael Kidd's choreography are marvelous as well. However the film's exalted reputation is overrated. Non-singers Jean Simmons and Marlon Brando are adequate, as is the rest of the cast, but no one is particularly exceptional. Even Frank Sinatra, who was reportedly unhappy with not playing Sky Masterson, gives a rather cheerless performance. The studio bound production is stagy and artificial, unbefitting a story set within the streets of New York City. And the film's bloated 150 minutes will test even the most ardent theater fan. A good adaptation, just not a great one.
Mark Hobin
Super Reviewer
Guys and Dolls Quotes
| | |
| --- | --- |
| Sarah Brown: | It's so delicious. That Bacardi flavoring certainly makes a difference. |
| Sarah Brown: | You know, this would be a wonderful way to get children to drink milk. |
| | |
| --- | --- |
| Big Jule: | If it ever gets back to Chicago that I went to a prayer meeting, no decent person will talk to me. |
| | |
| --- | --- |
| Sky Masterson: | Because only in Times Square the dawn gets turned on by an electrician. |
| | |
| --- | --- |
| Sarah Brown: | What did you order? |
| Sky Masterson: | Dolce de leche. Dolce is the spanish word for sweet; de means of; and leche means milk. |
| Sky Masterson: | Dolce de leche. Dolce is the spanish word for sweet. De means of and leche means milk. |
| Sarah Brown: | Don't they serve it plain? |