Guzaarish
(2010)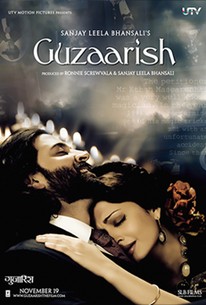 Movie Info
Ethan Mascarenhas, one of the greatest magicians of his time, has been immobilized with a spinal injury for the last 14 years of his life. He still manages to spread magic and hope through his irrepressible wit and humor to every listener on his radio show. Ethan is aided through every moment of his life by his nurse, Sofia D'Souza. Theirs is a love beautiful in its implicit silence, unwavering in its quiet strength and spirited in their constant verbal sparring. On the 14th anniversary of his accident, Ethan makes a petition to the court that shocks the world and leaves Sofia in an impasse. Ethan fights to demand the most basic right that every human being is entitled to -- the right to his own life.
Critic Reviews for Guzaarish
Audience Reviews for Guzaarish
An official remake of 'Whose Life Is It Anyway?', Guzaarish had an enormous scope of making the concept of euthanasia more known in this sub-continent than what it did. Despite having two superstars, the movie failed to satisfy me. The acting by both the protagonists (Hrithik Roshan & Aishwarya Rai) was too weak. Someone told me about this before I watched the movie, but I didn't believe him because its director is Sanjay Leela Bhansali. Unfortunately, what he told me turned out to be true. Specifically, Hrithik's portrayal of Ethan was too bad. His expressions were so lame that you don't care what happens to his character. You don't feel any sorrow/mercy for his pains & suffering. Besides bad performances, the script & screenplay too sucked. The film hardly had any interesting moment. I don't know how great an idea was to insert a song within every 10-15 minutes (approx.) interval, no matter how long or short they were. What should have consisted more of soul than substance was amateurishly reversed. And the substance wasn't so satisfying either. I felt as if the magical performances were made to look attractive by glittering the screen instead of going for better special effects. For most of the magic performances, the focus of the cameras would be taken too far from the respective characters. And of course, the cinematography was par excellence in those sequences. If you intend to watch a movie with this kind of mood, my humble opinion would be to skip this one and instead go for 'Mar Adentro' or 'The Diving Bell & The Butterfly' (among others). They are far better than this avoidable movie. So the ball is in your court now; decide for yourself. Hope you'll take a wise decision.
familiar stranger
Super Reviewer
A memorable movie that follows the daily emotional, and mental, anguishes of a quadriplegic dealing with the deterioration of his internal organs. With the love of his mother, he inspired to strive above all else, just by being content that he survived an awful accident ten years before. Now, after several years, the state of his body is declining and Ethan is no longer feeling the contentment of being alive, or of being free from all restraints (physical or otherwise). He seeks the assistance of his best friend, Devyani, to petition the courts for the rights of euthanasia. Due to cultural beliefs, he is denied that individual basic right. With the love of friends and his beloved Sofia, he continues to battle the struggles. Directed by Sanjay Leela Bhansali (whom once again excels in a highly compelling film). Brilliant portrayal of a character that is dealing with not only moral, and social, issues and aspects, but is dealing with a human being's right to his own free choices, and own will power. Powerful story plot that follows with an array of amazing character performances. Hrithik Roshan, Aishwarya Rai Bachchan, Shernaz Patel, Suhel Seth, Aditya Roy Kapoor, and Nafisa Ali. Definitely worthy! "Break the rules. Forgive quickly. Kiss slowly. Love deeply. Laugh uncontrollably. And never regret anything that made you smile." ~Ethan Mascarenhas
If I were to pick any one reason to watch Guzaarish, it would be Hrithik Roshan. I think he has delivered his career best performance here, getting rid of the Koi Mil Gaya-ish dumbo look on most occasions. Aishwarya also did a great job. Newcomer Aditya Kapoor is a natural. Story-wise there isn't much to talk of, unfortunately and that is the film's prime weakness. I could not sympathise with the request for euthanasia, and the subsequent court scene is melodramatic and an insult to good legal dramas. There are some good moments in the narration and the magic sequences are brilliantly done. Other factors essentially remain typical SLB style: grand sets, exquisite lighting, loud music, imaginative camera works et al. Again, go for it if you wanna see Hrithik in his best avatar yet, curiously that of a paraplegic. Of course, the Natya Shastra says to express yourself the help of body is not required :)
Guzaarish Quotes
There are no approved quotes yet for this movie.