Re-cycle (Gwai wik)
(2008)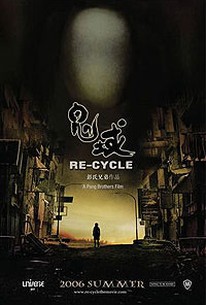 Re-cycle (Gwai wik) Photos
Movie Info
The film is based around the concept of the "recycle" bin in a computer, a writer enters an in-between world of spirits.
Critic Reviews for Re-cycle (Gwai wik)
Audience Reviews for Re-cycle (Gwai wik)
Courting the supernatural for ideas for her next novel, a romance writer finds herself trapped in a surreal land of abandoned ideas (and people). The incredible visuals make it worth seeing (particularly the horrific trip inside a cave-like womb festooned with fetuses), but it drags dramatically. The anti-abortion sentiment makes it a novelty, a not-so-subtle message Hollywood would never greenlight.
½
Bizarre and nightmarish fantasy from the Pang Bros. with a none too subtle stance on abortion. Expertly handled and executed with some wild FX work.
A.D. Villarreal
Super Reviewer
½
What starts out as an interesting concept about a surreal alternate universe (think Alice In Wonderland meets Silent Hill) haunted by the discarded thoughts and ideas of a struggling writer, oddly enough ends up feeling like a (not so subtle) "pro-life" propoganda film. Strange...right? Sure the story in general was a little convoluted, but some of the imagery was really creepy and the music hauntingly beautiful. Had they stuck to the core concept or at least not ended the film on such a stereotypically saccharine note...this film wouldn't have been half bad.
Re-cycle (Gwai wik) Quotes
There are no approved quotes yet for this movie.