Haiku Tunnel
(2001)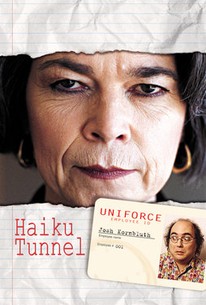 Movie Info
A temp worker is promoted to permanent status and finds his whole world changing as a result in this satiric comedy. Josh (Josh Kornbluth) is an overstuffed aspiring writer who is trying to finish his first novel, but in the meantime he supports himself by working as an office temp. Josh has grown accustomed to the Byzantine world of temporary labor, particularly the bossy secretaries and chilly co-workers, but Josh manages to impress his latest employers enough that they offer to make him a permanent, full-time employee. While a fellow temp who worked for the same company warns Josh that taking the job would be a mistake, Josh takes the plunge anyway, and soon discovers that his fellow employees now embrace him as one of their own. He also discovers that Bob Shelby (Warren Keith), his new boss, is more than a little crazy, and when Bob gives Josh an assignment to mail a series of important letters, John finds that he's suddenly incapable of doing this seemingly simple task. Instead, Josh spends his days working on his book (on company time and on a company computer), with his fellow office drones offering emphatic encouragement. Josh Kornbluth adapted Haiku Tunnel (with the help of John Bellucci and Jacob Kornbluth) from a semi-improvised one-man show Kornbluth created with David Ford; the Kornbluth brothers also directed the film.
Critic Reviews for Haiku Tunnel
Audience Reviews for Haiku Tunnel
Some people really loved it, I thought it was just okay.
Anthony Valletta
Super Reviewer
[font=Arial][color=darkred]Josh Kornbluth plays Josh Kornbluth, super temp in the world of office politics and incompetent corporate superiors. He's a working man's hero (well, a secretary's hero) as a round ball of puffy passive-aggressive professionalism. When asked to go permanent for a tax attorney ("We'll even cover your… psychotherapy") is when Josh's world begins to enter into comedic haywire. He's more adept at creatively finding ways around work then at actually accomplishing it. Kornbluth is a terrific comedic and a truly memorable figure. He co-wrote and co-directed the film with his brother from their stage play. 'Haiku Tunnel' often channels the spirit of the wicked satire 'Office Space' (a film that only gets funnier every time I watch it), but has enough of a feel all its own to be distinguishable. The film has some great lines and some imaginative characters to boot. 'Haiku Tunnel' is witty and often times hilarious, not to mention dead-on with its precision like satiric strikes. Kornbluth is a definite entertainment find and 'Haiku Tunnel' is a gem of a film worth looking for.[/color][/font] [font=Arial][color=darkred]Nate's Grade: B+[/color][/font]
Nate Zoebl
Super Reviewer
Haiku Tunnel Quotes
There are no approved quotes yet for this movie.