Half Baked
(1998)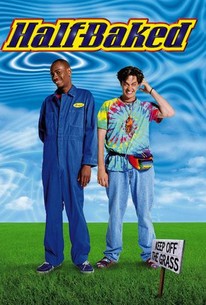 Movie Info
It's dopey time, again, in this pat-addled buddy movie that will scare you straight with its lack of humor.
Critic Reviews for Half Baked
Audience Reviews for Half Baked
½
A celebrated but ultimately really overrated cult hit concerning a few stoners sleazing away in New York City, and how one of them (Harland Williams) is put in jail on trumped up charges, and how his buddies (Dave Chappelle, Jim Breuer, Guillermo Diaz) decide it is up to them to raise the money through dealing to bail him out. Meanwhile, Thurgood (Chappelle) meets a woman and struggles to keep her from finding out that he smokes a lot. It starts out likable and entertaining but ultimately becomes super predictable while only supplying a couple laughs here and there. In the end, it really is not worth your time, although you do see signs of Chappelle's genius from a young age, but this should have been maybe an extended SNL skit and that's about it, not an hour and a half movie.
Dan Schultz
Super Reviewer
½
An inconsistent comedy written by the greatest stand-up comedian of all time, Dave Chappelle. At times, it's hilarious -- at others, not really. But in the end, this is a self-deprecating comedy with a plotline that only a person strung out on weed could come up with. I'm a huge fan of Chappelle though so I caught a lot of his style of comedy within the mess. I had a good time; it's just not well made or directed. Could've been better.
Thurgood Jenkins: So, now we all live together in New York. I myself, am a master of the custodial arts. Or a janitor, if you wanna be a dick about it.  "Warning: this movie may cause the munchies, cotton mouth, and memory loss!" Half Baked is a movie that works to the degree it does because of the always hilarious Dave Chapelle. The movie is nothing revolutionary, but it is funny. It's a stoner comedy, so you know what you're getting yourself into. The film is best watched under the influence of the cannabis, but because of the police and marijuana prohibition I had to watch it this time completely sober. I know, sucks right. Still, I enjoyed it, while noticing that it wasn't nearly as good as the previous twenty times I had watched. Hmmmm... I wonder why. Four stoner friends live together in a New York City apartment getting high everyday. When one of the friends goes to get munchies and accidentally kills a police horse, he is sent to prison. Now, the three remaining friends are left in charge of trying to get the bail money to get him out. In order to do so, they start selling weed from a research facility and selling it.  Do I recommend this movie? Yes and no. If you smoke weed, used to smoke weed, or for some reason just love stoner comedies; then watch it. You should find a certain amount of enjoyment in it. If you have never smoked weed, are under the impression that weed is "bad", or hate stoner comedies; stay far away from this one. I've already heard too many people bitch about how stupid it is. Of course it is, toke up and free your mind to the lovely world of stupidity. Then you will be ready for Half Baked.
Melvin White
Super Reviewer
Half Baked Quotes
| | |
| --- | --- |
| Brian: | Don't Worry, I'm not gonna do what everybody thinks i'm gonna do which is just flip out man. |
| | |
| --- | --- |
| Thurgood: | Now that's a titty. |
| | |
| --- | --- |
| Thurgood: | Right near the beach... BOY! |
| | |
| --- | --- |
| Thurgood: | what is it scientist?! |
| Thurgood: | What is it scientist? |