Half Caste
(2006)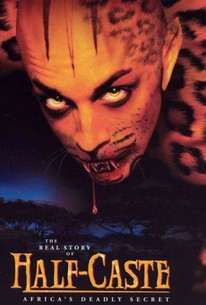 AUDIENCE SCORE
Critic Consensus: No consensus yet.
Movie Info
One of Africa's most shocking legends comes to life in this terrifying tale of four students whose fascination with tales of a half-human, half-leopard man-beast find them fighting for their lives. The tales have been passed down through the generations, but few have lived to see the horrific monstrosity firsthand and lived to tell the tale. Now, as four students venture into the wilderness under the flawed theory of safety in numbers, the best will make itself known, and the curious students will find out why some legends are best left to the storytellers.
Critic Reviews for Half Caste
All Critics (2) | Fresh (0) | Rotten (2)
[A]s far as crafting an interesting, coherent story, this style is painfully inept.
The Real Story of Half-Caste may be trying to recreate "reality" to shock and scare, but all it [does] is challenge your charitable nature regarding independent film.
Audience Reviews for Half Caste
½
I started to watch this movie 5 times, and each time I shut it off after about 15 minutes and said this is junk. Seem to be some college jock's film fantasy I said to myself. But it finally came back up in my films to watch and I made myself sit through it. And in the right frame of mind (Without beer or liquor) its not a bad movie, but I must admit it might have been better with a little something to open ones mind up. It is a documentary-horror film. Its about a half leopard half man in Africa. The interviews with the African?s and the tribal elders and women seem pretty real to me. The attack scenes reminded me of American Werewolf in London, they were fast and seldom did you see the monster. And the ending left room for a sequel. I think the only actor in this movie who went on to really hit it big was Yvans Jourdain. Hey 6 times to get through it and say thank God that?s over with and 3 1/2 stars oh I think I am being nice. Would I recommend you going out and buying it, only if you see it in the under $4.00 bin. I hope it is never given to you as a present. 3 1/2 stars fellows
Bruce Bruce
Super Reviewer
Half Caste Quotes
There are no approved quotes yet for this movie.