Half Light
(2005)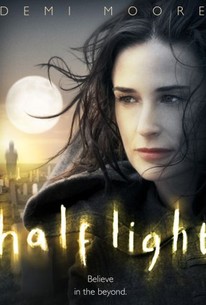 Movie Info
A successful mystery writer retreats to a remote fishing village following the tragic death of her son, only to become caught up in a bizarre supernatural murder mystery in this tale of terror directed by Craig Rosenberg and starring Demi Moore. Rachel Carson's (Moore) five-year-old son has drowned, and as a result her life appears to be falling apart at the seams. When a sympathetic friend rents Rachel a secluded cottage in hopes that a little peace and quiet will help the grieving mother recover from her loss, the quiet retreat is violently shattered by a series of bizarre and unexplained murders. Now with a community in fear and her sanity slowly slipping, Rachel must use her instincts to unmask the killer before it's too late and she too falls prey to the murderous rage that threatens to consume the once tranquil town.
Critic Reviews for Half Light
Audience Reviews for Half Light
½
Lame and tame ghost thriller. Average acting, honestly can't even be bothered to review it, it was that meh.
Nicki Marie
Super Reviewer
There are many elements to this film that make it a cheesy predictable Horror movie and at the same time it has some likable qualities. Ironically I liked Demi Moore in this more humble role better than many of her Hollywood roles. Entertaining, predictable, but a good watch (in a bad film kind of way)
Lady D'arbanville
Super Reviewer
½
i like this movie its weird with twists you come to one conclusion then its suddenly squashed because another happens making your theory rubbish its about i lady whose son dies (thats demi moore) she then gets writers block so she goes to a cottage in scotland where its very issolated and shes alone but things start to happen and things she cant explain is she goin mad, is she seeing ghosts??? im not goin to tell you watch the movie!!
Film Crazy
Super Reviewer
Half Light Quotes
There are no approved quotes yet for this movie.