Half Past Dead
(2002)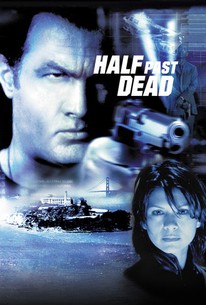 TOMATOMETER
AUDIENCE SCORE
Critic Consensus: Seagal is now too bulky to make a convincing action hero, and Half Past Dead is too silly and incoherent to deliver any visceral kicks.
Movie Info
Action hero Steven Seagal goes behind bars -- though don't worry, he isn't really a bad guy -- in this action thriller. Sascha Petrosevitch (Seagal) is an FBI agent working undercover to infiltrate a gangland kingpin's operations. While Petrosevitch is able to gain the trust of one of the gangster's lieutenants, Nick Frazier (Ja Rule), things go haywire during an FBI raid, and Petrosevitch takes several slugs in the back as he struggles to maintain his cover. Eight months later, Petrosevitch and Frazier are serving time together in the newly refurbished Alcatraz Penitentiary, as Petrosevitch secretly continues his investigation. Prison warden Hubbard (Stephen J. Cannell) is arranging for the execution of convicted killer and thief Lester (Bruce Weitz), and U.S. Supreme Court justice Jane McPherson (Linda Thorson) has announced she will attend as a witness. But Hubbard's assistant Donny (Morris Chestnut) has devised a secret plan -- it seems Lester stole and stashed away 200 million dollars in gold before he was arrested, and Donny, along with an underground SWAT team, takes control of the prison and takes Hubbard, McPherson, and the other assembled dignitaries hostage, demanding to be told where Lester has hidden his fortune. Now Petrosevitch must drop his cover and persuade his allies within the prison -- including Frazier and Little Joe (Michael "Bear" Taliferro) -- to join him in a desperate bid to foil Donny and free the hostages. Half Past Dead also features Nia Peeples, Kurupt, Tony Plana, and Claudia Christian.
Critic Reviews for Half Past Dead
Audience Reviews for Half Past Dead
this was a decent watch because its seagal and im a sucker for that guy. really, this was a silly movie that shows how far seagal has fallen since he was making average movies.
½
Pitiful acting, even for a later Seagal flick. What happened to the action in his films, especially the actual hand-to-hand fighting? They actually made a sequel to this one and even though that one stars Bill Goldberg in it, it still can't be as bad as this piece of shit.
Derek Daniels
Super Reviewer
"The rumor is you went half past dead and came back." Let's get this out of the way: YES, Steven Seagal does break someone's neck in this film. You just knew he would.... Half Past Dead is a film that suffers from atrocious acting. Ja Rule is one of the most laughable actors in Hollywood. He's unconvincing as a hard-ass tough guy standing at a measly 5'7" 150lbs. One of the most comical attempts at a serious standoff was in the beginning of the film when Ja Rule and his gang are confronted by a single female FBI agent. What ensues is a ridiculous exchange of words that included the line "Today looks like a great day to die" and then followed by an asinine shoot off. It's a shame that this film centers around two awful actors (Ja Rule and Seagal) because the plot wasn't half bad. It was intriguing, yet predictable. Morris Chestnut makes an incredibly convincing and chilling bad guy. And Nia Pebbles looked smoking hot for a lady in her 40's. Half Past Dead has pretty spectacular action, full of gun fights and martial arts. But overall, it's just a really really lame flick. With better leads than an overrated rapper and a fat black belt fighter, this could've been a good popcorn flick.
Half Past Dead Quotes
There are no approved quotes yet for this movie.