Hallelujah, I'm a Bum
(1933)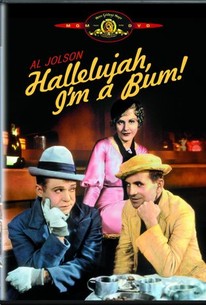 Hallelujah, I'm a Bum Photos
Movie Info
Al Jolson's "comeback" picture Hallelujah, I'm a Bum is an offbeat Depression-era concoction with script by Ben Hecht and S.N. Behrmann and music and lyrics by Richard Rodgers and Lorenz Hart. Jolson plays a genial hobo who wanders happily around Central Park, neither seeking nor accepting honest employment. He is imbued with a sense of responsibility when he rescues pretty Madge Evans from committing suicide. Evans, suffering from amnesia, falls in love with Jolson, completely forgetting her "regular" beau, mayor Frank Morgan. When she regains her memory she heads back to Morgan, leaving Jolson sadder but wiser, and prompting him back to his carefree existence. Much of the dialogue is spoken in rhyme, in the manner of an operetta--though there's nothing Romberg-like about such lyrical phrases as "Hoover's Cossacks." Former silent-film comedy star Harry Langdon has some choice moments as Egghead, a communist streetcleaner, while composers Rodgers and Hartshow up in unbilled cameos. Because the word "Bum" has different connotations in different lands, this film was released in England as Hallelujah, I'm a Tramp. The reissue version, titled Heart of a Tramp, has been severely re-edited, doing considerable damage to the carefully interwoven rhyming dialogue.
Critic Reviews for Hallelujah, I'm a Bum
Audience Reviews for Hallelujah, I'm a Bum
a whimsical and progressive pre-code musical that's likely jolson's best film. instead of blackface, he gets a black sidekick and terrific songs by rodgers and hart. the film flopped perhaps because people couldn't stomach one of the richest men in hollywood singing of the joys of vagrancy at the height of the depression, but it's still charming and a great display of jolson's talent. btw, the description here is for a different film (http://www.imdb.com/title/tt0021829/) by mervyn leroy
Stella Dallas
Super Reviewer
Hallelujah, I'm a Bum Quotes
There are no approved quotes yet for this movie.