Hallettsville
(2009)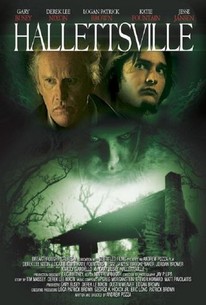 AUDIENCE SCORE
Critic Consensus: No consensus yet.
Movie Info
Tyler (Derek Lee Nixon) and his friends fight the forces of darkness while spending the weekend at his family's remote ranch house, which was once the scene of a horrifying massacre.
Critic Reviews for Hallettsville
There are no critic reviews yet for Hallettsville. Keep checking Rotten Tomatoes for updates!
Audience Reviews for Hallettsville
When Tyler Jensen and a group of his friends decide to spent one more fun filled weekend in the old ranch home of his late grandmother before its sold he didnt expect what he finds inside all of sudden each of his friends start dieing one by one and now Tyler must find a way to stop the evil from killing and save himself and his girlfriend from almost certain death. That pretty much sums up this waste of time of a movie that started off really well which is why the 2 stars but falls very hard very fast as the acting just turns really cheesy and Gary Busey didnt help matters with the way he plays the hard ass town sheriff watch at your risk.
Something awaits Tyler Jensen and his friends in the Hallettsville house. When Tyler's lifelong friends start dying, he must figure out a way to save himself, his girlfriend and the rest of the crew before the demons come.
A group of college friends go to Tyler's grandma cabin where they later reveal that 'something bad will happened.' It's true what they say: it's all been done before, but it's not the story you tell, it's how you tell it, and director Pozza and company do it quit ok for a while. The cinematography and sound design were the two things that I enjoyed most about this film. The acting was generally solid as well accomplished. The dialogue was good for the most part and Gary Busey's small role was well played and memorable. Hallettsville has memorable scares and jumps, but the film becomes a B-movie when the killing starts and we don't really see much of anything. And what the hell is with the book? It brought nothing to the story. Though not a movie that you'll rewind and want to watch again and again. Too predictable. The ending was OK could have been better.
Daisy Maduro
Super Reviewer
Hallettsville Quotes
There are no approved quotes yet for this movie.