Halloween
(2007)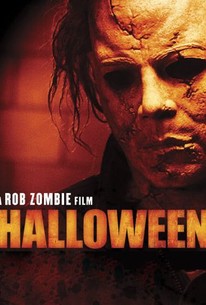 TOMATOMETER
AUDIENCE SCORE
Critic Consensus: Rob Zombie doesn't bring many new ideas to the table in Halloween, making it another bloody disappointment for fans of the franchise.
Movie Info
"Halloween" is an entirely new take on the highly successful film and terrifying legacy that began in 1978. While revealing a new chapter in the established Michael Myers saga, the film will surprise both classic and modern horror fans with a departure from prior films in the "Halloween" franchise. Audiences should brace themselves for unprecedented fear as "Halloween" turns back time to uncover the making of a pathologically disturbed, even cursed child named Michael Myers.
Critic Reviews for Halloween
Audience Reviews for Halloween
½
The only good thing in this terrible remake (so rock 'n' roll that it could have only been made by Rob Zombie) is the music, since the setup is long to the point of tedious and the movie simply degenerates into brainless gore with no imagination or real tension.
Carlos Magalhães
Super Reviewer
The original "Halloween" is one of my favorite movies of all time. It was the first horror movie that I witnessed, and the impact that was provided, left a lasting impression on me. I've been a fan or the genre ever since. Unlike the majority of it's peers, John Carpenter's film is still creepy and suspenseful. Sure, it's not as horrifying as it was when I was 7, but it stands the test of time. "Halloween" is one of the few horror movies that didn't really require a remake. While fans were losing interest in a long line of poorly conceived sequels, there was still a lot of money to be made off of the Michael Myers saga. That, and I can see why introducing "Halloween" to a new generation would be an attractive idea. In 2007, the franchise was handed over to Rob Zombie. Zombie's debut, "House of a Thousand Corpses" was a complete and utter disaster, but he showed promise with his follow-up, "The Devil's Rejects". While the latter was hopelessly unoriginal and featured shaky storytelling, it was at least competent. Unlike a lot of remakes, Zombie deserves credit for at least attempting to make "Halloween" his own. Well, that's at least half true. The movie can easily be divided into two chapters: an origin story followed up with the familiar return to Haddonfield. The prequel chapters represent Zombie's vision of "Halloween". It is fairly well executed. In particular, the performance of Daeg Faerch as a young Michael, is very impressive. Malcolm McDowell's portrayal of the iconic Dr. Loomis is also superb. While the initial segments of the movie are the film's strongest, there are still plenty of weaknesses. A lot of Rob Zombie's failures are glaring due to his shortcomings as a storyteller. Throughout his vision of Halloween, he has the tendency to miscast Michael Myers as a protagonist. This is aggravating to the nature of the film. During the origin phases, the body count is populated by victims that are far too deserving of their fates. Michael feasts on abusive alcoholics, bullies, and rapists. This makes the character seem less callous, and irresponsibly forces him into the role of an anti-hero. In my opinion, the desired effect is amplified when the characters haven't "earned" their eventual encounters with the slasher. The audience should fear Michael because he has no reasonable motivations. After all, he's a monster. Saddling the iconic "Shape" with a backstory easily lifted from a serial killer paint-by-numbers kit is weak, and ultimately unnecessary. The obligation to feel sorry for the character is alienating. One would figure that a horror aficionado like Zombie claims to be, would have these details figured out. The second portion of the film is where Zombie begins borrowing heavily from John Carpenter's film. What unfolds nearly follows the original picture's chain of events to a 'T'. That said, the victims are executed with a harsh cruelty, that is no doubt, unprecedented for the franchise. I appreciate the heightened intensity. While the hostile nature of the direction keep the proceedings entertaining, the predictability and familiarity of what unfolds alleviates the necessary anxiety. For his faults, Zombie does have the ability to make his movies look slick. His version of "The Shape" is aesthetically astute. The choice to use a former professional wrestler was wise. Seeing Michael tower over much weaker opponents makes the murders even more devastating. Zombie also uses clever direction to show Michael stalking his victims through windows and popping out of shadows. All in all, I think that Zombie's version of Myers was a great success. In the end, 2007's Halloween is an entertaining movie. It's certainly heads and tails above any other sequel in the franchise's long history. That's probably not saying much though. I guess it also goes without saying, that the new Halloween falls miserably short of the original's greatness. Zombie's film succeeds with style, but falls short on substance.
Jason Calvin
Super Reviewer
A very pathetic remake. ( A lot of remakes are.) Rob zombie decided that he wanted to direct a totally unneccesary movie. The original is the greatest horror movie of all time in my opinion, but now it's ruined because of this white-trash adaptation. Unlike the original, we get to see Michael Myers growing up as a kid. His family is white-trash (A huge cliche when it comes to Rob zombie films) and the thing I noticed right off the bat is that making him grow up in an unstable environment ruins the character. In the original, Michael grew up in an average suburb house with two normal parents and a normal lifestyle for someone his age...and he still became evil. That makes the original version scarier because he was evil by nature and it's almost as if he was born to be a complete psychopath. The remake however makes him evil by nurture, the environment he lived in which included a bitch sister, a mom who is a whore and the mom's abusive boyfriend who criticized Michael whenever possible. He was evil because he had a hellish lifestyle and let's be honest, there are a lot of kids/teens like that in the world. It just makes the remake Michael seem less menacing and less of a challenge. Another wrong with this movie is the dialogue. Just about every character cusses every 3 words. (Hey, another Rob Zombie cliche!) Seriously, it's bad enough I have to listen to nonstop cussing at my high school, but to hear it from characters ranging from adults to people close to my age is just aggravating. I bet if Rob zombie made a movie about pre-schoolers he would still have them cuss nonstop: Teacher: What the fuck is two plus fucking two? Billy: Twenty-two, bitch! Teacher: Wrong, dumbshit. Any other little assholes wanna answer this shitstorm of a fucking problem? I'm not kidding, that's exactly what Rob Zombie dialogue sounds like. Another thing about this movie is that it just contains way too much blood and gore. The original had virtually no blood, but the remake just overdoes it with the violence. (Rob Zombie cliche numero tres.) I mean come on, were Rob Zombie to make a movie about a kid getting a paper cut, his whole finger would go flying off, the bone would poke through his skin and blood would spew out like a fountain. The acting in this film is ok though. The kid playing Michael Myers as a child did alright, the teens were ok, but annoying and the adult actors did pretty good with what little material they were given. Overall, the remake is just irrelevant. Rob Zombie cinematically commited rape. He ruined what made the original scary and turned it into something totally different. If Rob Zombie were to make a remake of Jaws, this is what I think it would be like: Brody: Where the fuck is the fucking shark? Quint: The shit vanished in mid-fucking-air. Shark: I'm over here, bitches! Imma get drunk and throw sea rocks at you assholes. (Rock hits Quint in the toe and his head blows up while his limbs fall off and melt into blood while every bone in his body snaps.) The end.
Tyler Robertson
Super Reviewer
Halloween Quotes
| | |
| --- | --- |
| Sheriff Brackett: | I think you have created quit the monster piece off the blood of this town. Because monsters, sell, books. |
| | |
| --- | --- |
| Dr. Kopelson: | We've given the authorities his complete profile. |
| Dr. Sam Loomis: | Two road blocks and an all-points wouldn't stop a 5-year old. |
| Dr. Kopelson: | Well, what do you want us to do? |
| Morgan Walker: | Yes. I mean, what do you want us to do? |
| Dr. Sam Loomis: | I want you to get on the phone, and I want you to tell them who broke out of here last night. And I want you tell them exactly where he's going. |
| Morgan Walker: | Christ, we don't know were he's going. |
| Dr. Sam Loomis: | It must be great living in denial. I must try it sometime. Look, you and that army of shirt-tuckers up there, you know damn well were he's going. |
| | |
| --- | --- |
| Dr. Sam Loomis: | It must be great living in denial. I should try it sometime. |
| | |
| --- | --- |
| Laurie Strode: | I don't need a boyfriend... |