Halloween III: Season of the Witch
(1982)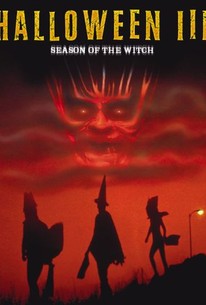 TOMATOMETER
AUDIENCE SCORE
Critic Consensus: Its laudable deviation from series formula not withstanding, Halloween III: Season Of The Witch offers paltry thrills and dubious plotting.
Halloween III: Season of the Witch Videos
Halloween III: Season of the Witch Photos
Movie Info
In the third Halloween feature--which really has little connection to the previous two--the psychotic killer is a scientist (Dan O'Herlihy) who creates a brand of satanic Halloween masks which kill the children who wear them.
News & Interviews for Halloween III: Season of the Witch
Critic Reviews for Halloween III: Season of the Witch
Audience Reviews for Halloween III: Season of the Witch
A mediocre movie that feels more like an episode of an anthology series stretched for 98 minutes (with shades of Invasion of the Body Snatchers and even James Bond), and it takes too long to gain momentum and move into high gear to make us care about its stupid plot.
Carlos Magalhães
Super Reviewer
Ah, Halloween III: the black sheep of the series. This one gets ignored and dumped on since it strays from the others and has nothing to do with the rest of the series. For the longest time I vowed to never see this, simply for that reason. However, as time went on, I gave it some thought, and decided to reconsider upon learning that, from the start, John Carpenter had envisioned an anthology where, each subsequent film in the series (save for part 2) was unrelated, save for taking place on/around and involving Halloween. Think of the possibilities. They're basically limitless. Unfortunately most people didn't seem to get that, weren't happy about it, confused as to why this one deviated, and eventually forced the rest of the films to bring back Michael and stick to formula. That kind of thinking is rather unfortunate, and I feel bad for being so narrow minded, especially when I learned about Carpenter's intentions. Okay, enough with the backstory. Our plot concerns a doctor who, along with the daughter of a recently deceased patient, get caught up in a malevolent conspiracy involving the founder of a Halloween mask manufacturer who wants to return the holiday to its ancient, sacrificial origins. It sounds nuts, I know, and the specifics are even weirder, but this actually shows a bit of thought and uniqueness, despite not making a lot of sense. Tom Atkins is okay as the doc, and Stacey Nelkin is passable as the daughter, but the one who steals the show is Dan O'Herlihy as the head of the mask company. He's creepy, unnerving, and absolutely nuts. It made me even happier when I soon realized that he's also the same guy who played the CEO of OCP in Robocop. Sweet. The film's got a dark, moody tone that's really comparable to the previous two films, and a lot of that is thanks in part to Alan Howarth and John Carpenter's score, which is really eerie, atmospheric, and unsettling, establishing the perfect mood and tone. The cinematography by Dean Cundey is also quite good. The plot is off the wall, but there's some decent effects, and the fact that the filmmakers wanted to be risky and make the primary intended victims is commendable. I don't condone violence towards kids, but I do applaud balsiness. The film does have a lot of issues with story and some of the acting, and it does start to fall apart towards the end, but I do give it credit for having some neat ideas and doing something different. This really isn't THAT terrible of a film, and it's unfortunate that it's so underrated. If you have an open mind, you might want to give it a chance.
Chris Weber
Super Reviewer
Androids, the mystical powers of Stonehenge, rattlesnakes and magical Shamrock coins are all enveloped into one conspiracy theory. What might sound like a bizarrely exhilarating rollercoaster is actually a laughable, groan-inducing shadow of Carpenter's talents. It possesses the incontrovertible trademarks of Carpenter: the priceless keyboard score, the sparse style and Dean Cundey's legendary cinematography. However, none of the characters are remotely sympathetic (Atkins is essentially a lecherous gigolo who flirts with every ample-bodied female), the gore is wildly overcooked (a beheading and nostril dislocation) and the bombarding, annoying theme song is repeated ad nauseum. When the protagonists are hiding behind a mask rack, it's like a scene directly from a 'Scooby-Doo' episode. I was never an overwhelming fan of the franchise, but this disconnected sequel is among the most taxing to watch, let alone enjoy.
Cory Taylor
Super Reviewer
Halloween III: Season of the Witch Quotes
| | |
| --- | --- |
| Conal Cochran: | Oh And, Happy Halloween. |
| Conal Cochran: | Oh and, Happy Halloween. |
| | |
| --- | --- |
| Conal Cochran: | I do love a good joke and this is the best ever: a joke on the children. |
| | |
| --- | --- |
| Conal Cochran: | What you need to see is an example, and there's one coming right up. |
| Conal Cochran: | You know what you really need to see is a demonstration and there's one coming right up. |
| | |
| --- | --- |
| Dr. Daniel Challis: | You haven't know...is there a vacancy here in this motel? My wife and I need a place to stay. |
| Dr. Daniel Challis: | You haven't know, is there a vacancy here in this motel? My wife and I need a place to stay. |
| Rafferty: | You've come to the right place. It's cozy, it's quiet, and the price is right. |