Halloween: Resurrection
(2002)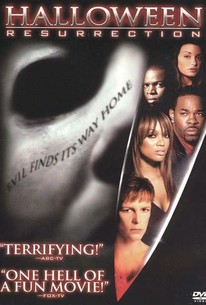 Halloween: Resurrection Photos
Movie Info
Director Rick Rosenthal, who helmed the very first sequel to Halloween (1978), returns to the horror film series with this eighth entry in the long-running franchise. This time the story line returns to the Haddonfield, IL, family home of serial killer Michael Myers (Brad Loree), now the site of a contest where six college students are dared to spend the night, as their experience is broadcast live on the Internet. Their personalities and motivations are varying: Sara (Bianca Kajlich) is a shy psychology major; Jen (Katee Sackhoff) hopes to launch a broadcasting career; Rudy (Sean Patrick Thomas) is a culinary arts student; Bill (Thomas Ian Nicholas) is a womanizing law student; Jim (Luke Kirby) is a rebellious musician; and Donna (Daisy McCrackin) is a brainy skeptic. Believing that the night is nothing more than a stunt that will provide them with scholarship money, the ill-advised participants are soon shuffling off their mortal coils thanks to Michael's typically ghoulish but creative methods of homicide. In the meantime, Michael's sister, Laurie Strode (Jamie Lee Curtis), is a suicidal mute, incarcerated and hospitalized for the murder of an innocent man she wrongly believed was her brother three years earlier, but a confrontation between the combative siblings is brewing. Halloween: Resurrection (2002) co-stars rapper Busta Rhymes and supermodel Tyra Banks.
Critic Reviews for Halloween: Resurrection
Audience Reviews for Halloween: Resurrection
½
Not scary at all and at times quite funny. Has all the usual stuff for a modern day slasher, but poor overall.
½
Certainly better than some of the awful films this series has produced along the way, but still a kick in the face to everything Carpenter was trying to accomplish with the original. This time we have the director of Halloween II back at the helm (Rick Rosenthal, the first person to tarnish the series with the first sequel) and even though it doesn't feel as amateurishly made as some of the others, it still doesn't come close to the tense and atmospheric original. The characters are all incredibly dumb and the premise itself starts off intriguing (not the online crap, the real story with Laurie Strode), but lasts a total of 5 minutes and ends awkwardly. Not that I think this movie has the right to continue the story in the first place because the twist to keep the story going from H20 is stupid and annoying. I think Halloween, Halloween II (unfortunately), and H20 are the true story of the series. Although the original one is all I really care about honestly.
Josh Lewis
Super Reviewer
Freddie Harris: Michael Myers is a killer shark. In baggy ass overalls who gets his kicks from killing everyone and everything he comes across.  "Michael's work in Haddonfield is not done yet." Not only is Halloween: Resurrection the second worst film in the franchise, and the worst one that actually has Michael Myers in it; but it also has the worst twist ever, to keep a franchise going. It is a joyless attempt at to make more money because of the moderate success of H2O. The cast is shit and the story is shit, which more than not makes the movie shit. The movie starts off with that horrible twist I was talking about. Then we go to an insane asylum where Laurie Strode is now. Myers comes back and kills some people. Then we jump to Haddonfield University where three friends are cast in an Internet reality show. They, along with three others will spend a night in Michael Myers home, with cameras broadcasting it for the whole world to see. It that isn't bad enough, the leaders of this show are played by Busta Ryhmes and Tyra Fucking Banks. Horrible! Good thing the movie doesn't even make it to the hour and a half mark because if it was any longer I would have had to put a bullet through my head. This is down there with slashers like Jason X. It is that bad.
Melvin White
Super Reviewer
Halloween: Resurrection Quotes
| | |
| --- | --- |
| Freddie Harris: | Burn motherfucker,burn (grabs Sarah, putsher over his shoulder) Hey Mickey, happy fucking Halloween. |
| Freddie Harris: | Burn mother fucker, burn [grabs Sarah, putsher over his shoulder] Hey Mickey, happy fucking Halloween. |
| | |
| --- | --- |
| Freddie Harris: | Trick or Treat, motherfucker! |
| Freddie Harris: | Trick or treat, motherfucker! |
| | |
| --- | --- |
| Freddie Harris: | (fighting Michael Myers) - Let's see what you got! |
| Freddie Harris: | (fighting Michael Myers) Let's see what you got! |
| | |
| --- | --- |
| Jen Danzig: | (talking to Bill; before smacking him) - You are, like, this close to getting voted off the island. |
| Jen Danzig: | (talking to Bill; before smacking him) You are, like, this close to getting voted off the island. |