Hammett
(1982)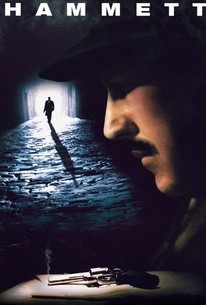 Movie Info
Director Wim Wenders made his American film bow with the ultra-stylish Hammett. Based on the speculative novel by Joe Gores, the story concerns real-life detective novelist Dashiell Hammett (Frederic Forest), who early in his career is involved in a complex mystery that will profoundly influence his later works. While hacking away for pulp magazines, Hammett is asked by Jimmy Ryan (Peter Boyle), his old boss at the Pinkerton agency (and the model for the writer's "Continental Op" character), to help out on a particularly difficult case. Before long, Hammett is prowling the nooks and crannies of San Francisco in search of a missing Chinese prostitute-blackmailer (Lydia Lei). Among the several delectable "inside jokes" in Hammett is the presence of Elisha Cook, who'd appeared in the 1941 film adaptation of Hammett's Maltese Falcon, as Eli the Cab Driver. Cinematographers Philip H. Lathrop and Joseph Biroc work overtime to invest Hammett with the "feel" of a classic 1940s detective yarn.
Critic Reviews for Hammett
Audience Reviews for Hammett
½
"Hammett" is a total mess, but its flaws can be forgiven if you take into account what it went through during production. A majority of the film's problems obviously occurred during the post-production phase. There are several awkward cuts and continuity issues, and a handful of scenes appear to have been cut from the film entirely. Nevertheless, there is a lot to like about "Hammett." Frederic Forrest gives a solid performance, evoking memories of other hard-nosed detectives played by great actors like Jack Nicholson and Humphrey Bogart. As well, the supporting cast is quite good, although there are a couple of stiff line readings. The story becomes easier to follow as the film progresses and the set design is inventive, and in the end, I liked "Hammett."
Stephen Earnest
Super Reviewer
By all accounts, "Hammett" was a troubled project. Rumors abound that producer Francis Ford Coppola re-shot much of credited director Wim Wenders' footage and, indeed, the filmmaking leans more toward Coppola's style. A favored Coppola actor (Frederic Forrest, who already had appeared in "One from the Heart," "Apocalypse Now" and "The Conversation") stars, and the sets' obvious, studio-lot falseness is more of a Coppola trait. Wenders' icy introspection is tempered, while Coppola's proven knack for the classic crime drama thrives. Really, the only moment which screams "Wenders!" is an esoteric Samuel Fuller cameo. "Hammett" is essentially a film-noir pastiche -- it's difficult to produce a contemporary piece like this which doesn't seem like just an arch exercise. The script visits the legendary Dashiell Hammett as a younger, struggling writer, and imagines him returning to the detective beat (he worked for the Pinkerton Agency prior to attaining literary fame). Recruited by an old chum (Peter Boyle) to help find an exotic prostitute missing in Chinatown, Hammett enlists his implausibly gorgeous neighbor (Marilu Henner) to play Girl Friday as he matches wits with colorful actors including Jack Nance ("Eraserhead" and other David Lynch works), David Patrick Kelly (whose strangled voice is an interesting counterpart to his iconic "Come out to play-yi-yay" taunt from "The Warriors"), Roy Kinnear and a few old-timers from film noir's heyday (the scene with Sylvia Sidney is especially good). Multiple genre cliches are affectionately trotted out -- the trenchcoats, the cigarettes, the Venetian blinds, the clattering typewriters, the alleys, the pool halls, the gambling parlor, the clattering typewriters, the shadowy stalkers, the apartment trashed in a futile search, the gun pointed through a pocket -- as Hammett pursues both the lost girl and an overdue manuscript which he has foolishly dropped. A good ending helps salvage a film which otherwise can seem like a pointless tribute. John Barry adds an appropriately swanky score, and two fantasy sequences give Wenders/Coppola a further chance to indulge themselves. "Hammett" is no masterpiece, but its "flop" reputation is unfair.
Eric Broome
Super Reviewer
Fans of both Wim Wenders and Film Noir will not to miss this one.
Anthony Valletta
Super Reviewer
Hammett Quotes
There are no approved quotes yet for this movie.