Hana (Hana yori mo naho)
(2006)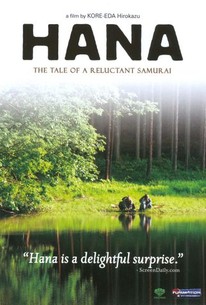 AUDIENCE SCORE
Critic Consensus: No consensus yet.
Movie Info
Director Hirokazu Koreeda turns the popularly held conventions of the typical samurai revenge tale on their head with this story of a man whose quest to avenge the death of his father gradually takes a back seat to his emerging role as a key figure in the community. The year is 1702, and young samurai Sozaemon Aoki (Junichi Okada) has arrived in Edo to seek revenge against Jubei Kanazawa (Tadanoby Asano). Kanazawa is the man responsible for the death of Aoki's father, and now it's up to the grieving swordsman to settle the score. When Aoki begins teaching the children of Edo to read and write, however, his bloodlust slowly begins to subside as he cones to realize the true value of his useful place in society. Upon falling in love with the beautiful Osae (Rie Miyazawa), Aoki comes to realize that although the sword may be a powerful symbol of strength, allowing oneself to fall victim to its savage allure may not always be the best way to realizing ones true heroism.
Critic Reviews for Hana (Hana yori mo naho)
All Critics (3) | Top Critics (1) | Fresh (2) | Rotten (1)
A humanistic, charmingly off-kilter samurai story of sorts.
September 15, 2006
This film has some heart and substance to it. It's too early to say, but perhaps Japanese filmmaking will turn its attention once again to concrete reality.
Despite a whimsical approach to the material, Koreeda allows too many scenes to drag and too many themes to repeat.
Audience Reviews for Hana (Hana yori mo naho)
A different kind of samurai film, as the hero, although a samurai out to avenge his fathers death, would really rather be teaching school and hanging out with the local widow. And since it's directed by the thoughtful Kirokazu Koreeda (AFTER LIFE, MABOROSHI), instead of swordfights, you get a colourful slum background, plenty of lively characters, comedy and a bit of philosophizing on revenge and wisdom. Different is good.
½
a beautiful film. koreeda blends period drama with a strong fusion of humor and adds great shot sequences to create a surprisingly understated samurai film. the entire film doesnt feature a single sword fight, but this is fitting considering the period of japanese history that the film takes place in, a peace period. instead of action we get a more realistic look at what samurai life might have looked like during this period. a solid film.
An Outsanding Movie, Not for your Average American Movie Buff. This is more of a Multi Story which combines into one. Must read subtitles for 2 hrs so that eliminates most of those living in America. Great Story line, if you like Samurai or early history of Japan you must see this. The settings were out of this world. Try this one and you might just might fall in love with foregin films.
Bruce Bruce
Super Reviewer
Hana (Hana yori mo naho) Quotes
There are no approved quotes yet for this movie.