Hands Across the Table
(1935)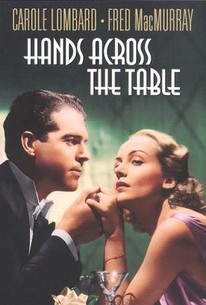 Hands Across the Table Photos
Movie Info
In this romantic comedy, a manicurist after being jilted one time too many decides to harden her heart against love, and look for financial security instead. She journeys to Manhattan and meets a handsome, wealthy man in a wheelchair. He falls madly in love with her and has every intention of marrying her. Meanwhile, a playboy from an impoverished aristocratic family is preparing to marry a wealthy socialite to restore his fortune. The playboy meets the manicurist when he saunters into her shop one day. He invites her to dine. She, thinking he is rich, accepts. To pay for the repast, the man uses the money his fiance had given him for a vacation in Bermuda. At dinner he gets very drunk and ends up spending the night in her tiny apartment; the next day, when she gets back from work, he tells her the truth about his family. By this time she doesn't care; her hard heart has melted and she is madly in love. They decide to marry as soon as he can find a job. Their wealthy fiances are left behind without a backward glance.
Critic Reviews for Hands Across the Table
Audience Reviews for Hands Across the Table
Breezy lark with a sparkling Carole Lombard. She and Fred work well together as always and if you only know him from his years as the retiring dad on My Three Sons he's quite dishy here. Ralph Bellamy is the odd man out again but at lest his Allen is afforded some dignity here instead of being the poor sap he usually got stuck playing.
½
Hands Across the Table is a variation on probably the most oft-recycled of all screwball plots, that of the gold-digger whose schemes are derailed by the inconvenient intervention of true love. Carole Lombard, as a designing manicurist, and Fred MacMurray, as the penniless playboy the former mistakes for her meal ticket, are both wonderful, but there's something odd about the tone of the picture, evidenced by the fact that our sadness for Ralph Bellamy, Lombard's unrequited suitor, outweighs our happiness for Lombard and MacMurray at the close.
Hands Across the Table Quotes
There are no approved quotes yet for this movie.