Hands of Stone
(2016)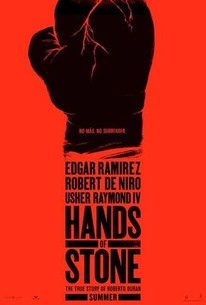 TOMATOMETER
AUDIENCE SCORE
Critic Consensus: Hands of Stone's strong cast and fascinating real-life story aren't enough to compensate for a crowded narrative and formulaic script.
Movie Info
HANDS OF STONE follows the life of Roberto Duran (Edgar Ramirez), the Panamanian fighter who made his professional debut in 1968 as a 16 year‐old and retired in 2002 at the age of 50. In June 1980, he defeated Sugar Ray Leonard (Usher Raymond) to capture the WBC welterweight title, but shocked the boxing world by returning to his corner in their November rematch, famously saying the words "no mas" (no more.)
News & Interviews for Hands of Stone
Critic Reviews for Hands of Stone
Audience Reviews for Hands of Stone
A fairly solid biopic, Hands of Stone tells the story of professional boxing champion Roberto Duran. While rising through the ranks Panamanian boxer Roberto Duran teams up with legendary manager Ray Arcel to help him win a championship, leading to a rivalry with welterweight champion "Sugar" Ray Leonard. Starring Edgar Ramírez, Usher Raymond, Robert De Niro, and Ana de Armas, the film has a solid cast that delivers some good performances. However, the script doesn't really develop Duran all that well, or make him all that sympathetic. And the plot more or less follows the standard formula for a sports film; with a rise, a fall, and a comeback. Still, Hands of Stone is entertaining and even a little inspirational.
Dann Michalski
Super Reviewer
The film borders on the melodramatic for way too long, 2 hours by count. I liked the actors and the depth they bring to the film but the filmmaking is forced. You are constantly provided with flashbacks of everything you have seen and that's when he is losing the fight. I have seen pretty much every boxing movie and sadly this misses beats left, right and centre. The writing seems strong so my best guess is the editing where the film seems to have lost its strength.
Brendan O'Connor
Super Reviewer
½
Hands of Stone has a good story to tell but does it in a very predictable and melodramatic way. The fall of Roberto Durán is portrayed in such a 'Hollywood' way, you have to roll your eyes at the desperate attempt for emotional dialogue. The film goes through so many plot points in rapid session, it fails to tell the important details of Durán's life that makes for a better story. The shaky cam during the fight scenes makes it difficult to follow the action in the ring and they don't seem greatly choreographed to begin with. Perhaps i've been spoiled by films like Creed that came out just last year and that film wasn't even about a real person. Hands of Stone feels like it doesn't have enough of a coherent message to portray exactly what it wants to be as a film. The acting is fine, the visuals of 70s Panama and 80s New York City is great. Hell, you even get a decent Don King impersonation but it is poor writing and a poor narrative that weighs down the film. Hands of Stone is a missed opportunity to cover the life of one of boxing's most influential figures and it's a damn shame.
Jacob Smith
Super Reviewer
Hands of Stone Quotes
There are no approved quotes yet for this movie.