Hang 'em High
(1968)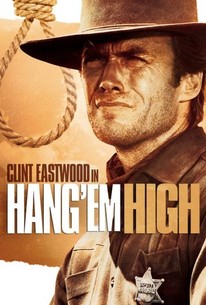 Movie Info
Ex-lawman turned rancher Jed Cooper (Clint Eastwood) is moving a small herd of cattle when a group of nine men on horseback, led by Captain Wilson (Ed Begley Sr.), ride up and accuse him of having stolen the cattle and killed their owner. Refusing to believe his account, they string him up by the neck and leave him for dead, but they don't do the job right. Cooper is dangling there, barely alive, a few minutes later when Deputy U.S. Marshal Bliss (Ben Johnson) spots him and cuts him down. He survives the next few days in Bliss' tumbleweed wagon with the other prisoners, and is later cleared of any wrongdoing and released by Judge Fenton (Pat Hingle), just in time to witness the hanging of the man who really murdered the owner of the cattle and took Cooper's money. Cooper still wants revenge on the nine men who tried to hang him, but Fenton insists that he leave the bringing of them to justice to his deputy marshals. As it happens, Fenton is in desperate need of deputy marshals for the territory that he oversees, and he also knows that Cooper was a good lawman. Cooper, in turn, is now broke and in need of a job, and does want to see justice done. They strike an uneasy bargain, Cooper agreeing to wear a badge and bring in the men he's looking for -- alive -- for trial. The latter proves easier said than done, however, when the first of them that he spots tries to draw on him when he makes the arrest. One of the hanging party, Jenkins (Bob Steele), soon turns himself in and provides the names of the others. Cooper takes Stone (Alan Hale Jr.) alive, but the hapless blacksmith is later shot by the local sheriff (Charles McGraw) while trying to escape. The other men, led by Wilson, have no intention of dying, or even being brought to trial, without a fight. Two of them go on the run out of the territory, while Wilson and two of the others decide to take the law into their own hands once again. Meanwhile, Cooper becomes a hero when he single-handedly brings back a trio of rustlers who are also guilty of murder. This leads to Cooper's first confrontation with Judge Fenton, who, in a gripping scene, explains why it is essential that he be as seemingly quick to hang a man as he is. Unless the people are convinced that the law will do its job -- including hanging men who deserve it -- they will keep taking the law into their own hands and there will be more lynch mobs like the one that tried to kill Cooper. In the course of his quest for justice, Cooper also makes the acquaintance of Rachel (Inger Stevens), a young woman with her own search for justice, haunted by her own ghosts, and the two of them are drawn together, no more so than when Wilson and two of the others try to gun Cooper down in cold blood. The final confrontation between Cooper and Wilson escalates in violence to its savage, irony-laced conclusion. ~ Bruce Eder, Rovi
Critic Reviews for Hang 'em High
Audience Reviews for Hang 'em High
½
This was Clint Eastwood's first western film post-Sergio Leone, and it's a pretty good one. Clint stars as Jed Cooper- an ex-lawman turned rancher who is wrongfully accused of theft and murder by a corrupt posse. They beat him, and lynch him from a tree, but they don't do a good enough job, and he miraculously survives. After a period of recovery, he is recruited to be a deputy marshal by the local judge who pardons him of his supposed crimes. He is urged to not seek vengeance against those who wronged him, but that proves easier said than done... In a lot of ways, this is basically just a typical exploitation revenge kind of plot, with a toned down spaghetti western feel to it. The film kinda takes a look at the consequences of vengeance, but not as much as later Eastwood films. It adds a touch of depth to the proceedings, but in the end, this is basically just a straight up western drama. I dug it. I mean, Ted Post is no Leone, but he's a decent enough director, and gets the job done here fairly reasonably. The film has a pretty good look about it, dry, dusty, and gritty, and it's pretty fitting given the subject matter. Clint does his thing, and delivers a typically solid performance, and gets in a few more words than his most famous character ever did. Pat Hingle is pretty good as the Judge who pardons then deputizes Jed, and it's fun seeing those two go head to head with one another concerning legal matters. All in all, this is a decent film, and it's done well, despite the fact that it's nothing new, innovative, or revolutionary. If all you want is a solid violence driven action western, then sure, give this a look.
Chris Weber
Super Reviewer
½
A group of nine men make the mistake of hanging an innocent man without a proper trial. With the man on the rope being Mr.Clint Eastwood, they made an even BIGGER mistake of not making sure he's dead. Rescue arrives shortly and the fate of those men have been written already by then. This is more like a toned down version of the Sergio Leone spaghettis. It does pose some serious questions about the morality of Capital Punishment, but in terms of entertainment, it gets nowhere near to Leone's Dollar Trilogy.
½
A near perfect western. It's an old fashioned morality tale that only Clint Eastwood could bring to life. The fact that he survives a hanging and a Robocop style shooting and then hunts down his captors is enough to gain the support of any audience member. I really like that it's about the politics of the time and not just a revenge story set in the west. The corrupt nature of the courts is extremely fascinating and an important message. The greatest aspect is the incredibly bizarre style, it almost has a b-movie horror feel to it. The music, shooting style and acting is all great. Ted Post has a great eye for capturing a certain look for his movies and this is no exception.
Conner Rainwater
Super Reviewer
Hang 'em High Quotes
| | |
| --- | --- |
| Sheriff Dave Bliss: | This may be hell, but it's still Oklahoma Territory. I don't know who hung you or why, but we'll give you a trial. |
| | |
| --- | --- |
| Jed Cooper: | Youre under arrest Reno When you hang a man you better look at him. |
| Jed Cooper: | [showing his hanging scar] When you hang a man, you better look at him. |