Hangar 18
(1980)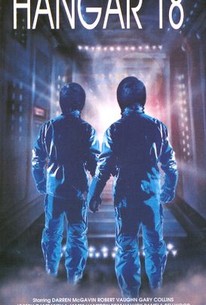 Movie Info
A collision with an orbiting satellite sends an alien spacecraft crashing to Earth. The American government recovers the ship and the bodies of its extraterrestrial crew, stashing them in the top-secret Hangar 18, and embarks on a massive cover-up in this paranoid science-fiction drama.
Critic Reviews for Hangar 18
All Critics (5) | Fresh (2) | Rotten (3)
The key to enjoying Hangar 18 is not taking it too seriously - just a little bit, around the edges.
The film resembles a television series, even though its special effects are superior. [Full Review in Spanish]
Audience Reviews for Hangar 18
½
I was flipping through, looking for something to watch & I came across this movie.I'm not normally into movies about outer space, UFO's & stuff like that but after seeing all the names that were in it, Gary Collins, Robert Vaughn, Joseph Campanella but most of all, Darren McGavin (Sorry if I forgot anybody else) I knew I had to check it out.Hangar 18 turned out to be pretty good (Kinda makes you wonder, what do they know that they don't want us to know? Know what I'm saying?) It was interesting to see the outside & inside of the ship, everybody trying to figure out how & what made it work, the 2 astronauts who were accused of causing the accident trying to clear their names & the officials doing everything they can to keep the UFO under wraps.The best part of the movie had to be the ending, the twist within a twist.I also read on IMDB that in 1983 Hangar 18 was released under the name Invasion Force which had an alternate ending.I wouldn't mind seeing the alternate ending but if I don't, no bother.Hangar 18 isn't a movie I'd buy but it is worth watching, if you're a fan of extraterrestrial movies or not
Brody Manson
Super Reviewer
½
An early attempt to cash in on the UFO conspiracy genre. By today's standard it's rather horrible but maybe a little decent for it's time.
Sylvester Kuo
Super Reviewer
Early attempt at X-Files material, is bogged down by pedestrian treatment.
Anthony Valletta
Super Reviewer
Hangar 18 Quotes
There are no approved quotes yet for this movie.