Hanging Up
(2000)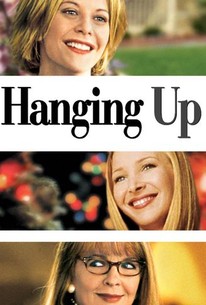 TOMATOMETER
AUDIENCE SCORE
Critic Consensus: Though the screenplay and the novel it's based on were both written by the same person, critics say Hanging Up is an unsuccessful adaptation. The acting is praised as solid, but is ultimately unable to save the film.
Movie Info
Diane Keaton directed and starred in this comedy/drama about a family brought together by potential tragedy. In her mid-40s, Eve (Meg Ryan) minds her house, runs a business organizing parties and events for others, and looks after her father (Walter Matthau), an alcoholic former writer who has grown argumentative and increasingly difficult to handle. Eve's sisters -- Georgia (Keaton), who is a few years older and the editor of a successful fashion magazine, and Maddy (Lisa Kudrow), a few years younger and a working actress with a spot on a soap opera -- have also had to deal with Dad, but only by long distance when he makes one of his frequent telephone calls. Dad now doesn't have long to live, and the siblings must pull together and make peace with their father and each other. Sisters Nora Ephron and Delia Ephron adapted the screenplay from Delia's novel; the supporting cast includes Adam Arkin, Cloris Leachman, and Mary Steenburgen.
News & Interviews for Hanging Up
Critic Reviews for Hanging Up
Audience Reviews for Hanging Up
Actually liked this much more watching it now than I did when I first saw it (at the cinema in my 20's). I liked it enough to buy the dvd, but never really bothered to rewatch it until now. I think being older now, I can really appreciate the themes more. At the time, I guess due the casting of Meg Ryan and Lisa Kudrow, I expected light and chick flicky, and when it didn't completely deliver, I thought it was a so so movie and didn't really bother with it again. There is humor in it. Meg and Lisa do have some funny lines, but it's a lot deeper too, as the three sisters deal with their aging father's bad health, dementia and looming death. There's also their mother, who bailed years ago, admitting marriage and motherhood was not for her. Incredibly brave of this movie to tackle that one in a movie aimed at an audience who possibly wouldn't understand at all. I think the low rating is probably due to the gap in marketing and the reality of this movie. The phone theme could have been dropped honestly. It would have worked fine without it. Overall I really found a new appreciation for this one and I think it is quite nicely done. Diane Keaton I did find a little hammy as the insufferable older sister, Georgia, but the other two sisters, the father, the mother - really good. Not perfect, but not as bad as the ratings make it seem either.
Nicki Marie
Super Reviewer
½
Hanging Up is a film about three sisters, very, very different from one another, who are unfortunately pulled together by their father, an alcoholic Alzheimer's patient who's wife left him and the family and has never recovered. It's taut, depressing, and harried throughout, mostly lending to the fact that this is clearly all about Meg Ryan. The other two sisters are background noise in this movie, every problem, every little thing that needs encapsulating being about Ryan. Keaton directed and co-starred in this as the older sister who never gives credit where it's due, and typically can't be reached. This character is so bothersome to me and unneeded throughout, that her presence in any scene feels contemptuous. Kudrow is the other mess of a sister, who is eccentric and naive, and also need not be in this film. If it had focused solely on the relationship between Ryan's character and her father (portrayed by the still lucid and very talented Walter Matthau) it would have been more poignant and made a bit more sense. What really irked me was that her mother doesn't want anything to do with her, so leaves this family to ruin, and barely anything is really explained about their relationship. If that had been better cultivated, it would have been very moving and harrowing. Instead we're stuck with this maudlin, overworked plot that just keeps going into flashbacks that are supposed to reveal these big events in time, but are actually just flavorless frosting on an already bothersome cake. Neither is it funny, nor dramatic, nor a good movie for Ryan, who also made the unfortunate films Kate and Leopold and Addicted to Love in that decade. It's just not worth it in any way, shape, or form.
Spencer S.
Super Reviewer
½
Three grown up sisters face the impending demise of their father in this Keaton directed, Ephron scripted chick flick about facing mortality. It means well but often is strained and labored.
Kevin M. Williams
Super Reviewer
Hanging Up Quotes
There are no approved quotes yet for this movie.