Hannibal Rising
(2007)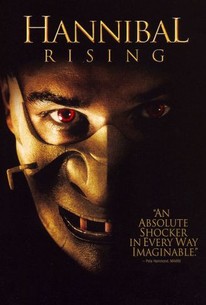 Movie Info
Curious filmgoers looking to get better acquainted with the silver screen's most notorious cannibalistic serial killer are sure to get their fair share of shocks and thrills as director Peter Webber teams with author Thomas Harris to explore the early life of well-read psychopath Hannibal Lecter. Based on author Harris' gruesome novel of the same name, Hannibal Rising travels back in time to World War II-era Lithuania, where an impressionable, well-to-do young boy named Hannibal (Gaspard Ulliel) was forced to watch helplessly as his family was massacred and his young sister suffered a terrifying fate at the hands of desperate, famished soldiers. After seeking temporary shelter at the Soviet orphanage that was once his family's home, Hannibal later flees to Paris in search of his long-lost uncle. Though his uncle has passed away, his uncle's beautiful Japanese widow, Lady Murasaki (Gong Li), warmly accepts the frightened orphan into her home. But even the love and kindness of this generous stranger isn't enough to calm the raging storm that is brewing inside this troubled young boy. Plagued by nightmares and determined to seek vengeance on the murderous war criminals who brutalized his family, the profoundly disturbed but academically gifted Hannibal enrolls in medical school in order to hone the skills that will allow him to exact horrific justice.
Critic Reviews for Hannibal Rising
Audience Reviews for Hannibal Rising
Not only an unnecessary prequel but also terribly written: overlong, filled with clichés and ridiculous dialogue, and failing to depict the character's evolution to become a monster in a believable way - and Gaspard Ulliel is absolutely awful.
Carlos Magalhães
Super Reviewer
A well made film with great locations, that explains a little about how Hannibal became to be what he is in The silence of the lambs. However I feel a lot is still unexplained and wouldn't be surprised if a further film takes us right up to date with his story, to the point of him being in prison at the start of The silence of the lambs. Still better than Hannibal though.
½
Harris did the screenplay of his own book, so he has no-one but himself to blame in that regard; however, the blame only partly lies with the script - the acting is very uneven and the casting in some cases abyssmal (Murisaka is attrocious - reduced to "Oh Hannibal" - showing no depth or nuance). Much more should have been made of who she was and how she relates to the young Hannibal, but alas. There were also attempts made to show that the Inspector was sympathetec, but too little, too late - I feel that to have gone in depth into those areas would have made a far different, and for my money, a better film, but some studio exec probably pushed for a more action type thriller. As a thriller there is some small merit here - the way in which Hannibal blithely walks right into danger; he's either so warped by his traumatic experience or so bent for revenge that he feels invincible or he simply doesn't care. There are some nice cinematic elements, especially the beginning scenes with the war going on all around the chateau, but in the end I felt unfulfilled (pun intended) - perhaps a nice chianti.... ah never mind.
paul sandberg
Super Reviewer
Hannibal Rising Quotes
There are no approved quotes yet for this movie.