The Happiest Millionaire
(1967)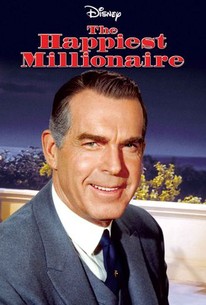 The Happiest Millionaire Photos
Movie Info
Adapted from the book and play of the same name, The Happiest Millionaire is the (mostly) true story of eccentric Philadelphia millionaire Anthony J. Drexel Biddle (Fred MacMurray). The Biddle mansion is the gathering place for a pugilistic boxing class, pet alligators and would-be opera singers. Cordelia Biddle (Lesley Ann Warren), the daughter of Anthony and his wife (Greer Garson), wants to marry wealthy and handsome Angie Duke (John Davidson), but Angie's parents are shocked by the Biddles' freewheeling lifestyle. Thanks in part to the ebullient intervention of John Lawless (Tommy Steele), the Biddles' butler, all misunderstandings are eventually swept away. Like Disney's previous Mary Poppins, The Happiest Millionaire is decked out with a vibrant musical score by Richard and Robert Sherman, but the magic is somehow lacking this time around. This was the last live-action film to personally supervised by Walt Disney; released several months after Disney's death, the film was made available in 141-minute and 164-minute versions.
Critic Reviews for The Happiest Millionaire
Audience Reviews for The Happiest Millionaire
½
Extremely overlong Disney concoction would have benefitted greatly by a heavy dose of editing. The veterans in the cast are the saving graces of this although Fred is required to be a bit buffonish at times. The younger members of the cast are uniformily vapid. Lesley Ann Warren, who can be a decent actress at times, is just as forgettable as the rest here.
The Happiest Millionaire Quotes
There are no approved quotes yet for this movie.