The Happiness of the Katakuris
(2001)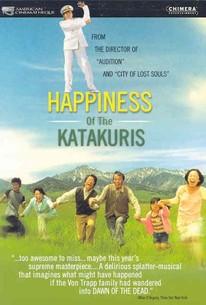 The Happiness of the Katakuris Photos
Movie Info
One of an amazing seven features directed in 2001 by Japan's prolific shock auteur Takashi Miike, The Happiness of the Katakuris is a gleefully morbid musical comedy about a family of oddballs who open an inn in the mountains. Unfortunately, through no fault of their own, none of their guests leave their rooms alive. In order to protect their business, the family resorts to burying the corpses in the backyard, but this only leads to a zombie problem. Meanwhile, the daughter falls in love with Richard, a mysterious British navy officer, who looks suspiciously Japanese but claims to be the nephew of Queen Elizabeth herself. Just when Richard bungles onto a clue that might lead him to uncover the string of disappearing guests, a nearby volcano begins rumbling to life. Propelled by musical numbers rife with movie and pop culture references, The Happiness of the Katakuris is a departure from Miike's famously gruesome thrillers. ~ Tom Vick, Rovi
Critic Reviews for The Happiness of the Katakuris
Audience Reviews for The Happiness of the Katakuris
I admit I haven't seen many musicals & I don't intend to but this one is right up there along with Hedwing and the Angry Inch as my favourite musicals of all time, My first Takashi Miike (Audition) was really disappointing so it took me so long to see this & Gozu but these two made me want to see his other movies
½
How can you seriously not call Miike a genius after making a film like this? The man spoofs the musical genre, and ends up making the best damn film ever in said genre. A one of a kind zombie/comedy/musical/drama/clayanimation that surprisingly enough happens to be a rather charming film, where the family unit is put to test. Screw Bjork and Lars hack Trier, this is the ultimate musical satire.
Tsubaki Sanjuro
Super Reviewer
First things first. Takashi Miike has got a h*** of an imagination. If there is somebody that can create a G-rated porno, Miike is your guy. Well, this isn't a G-rated porno. It is more of an R-rated musical. That sounds interesting enough right?
Like other movies from Takashi Miike, this one is no different in the weird and abstract department. The difference between this and a movie like Izo is that this one is easy to follow.
The pace of this film isn't fast, but it isn't all that slow either. I guess that makes it an average paced movie. The pace of this film should be one of the last things on your mind though. As I mentioned earlier, this film is weird, but quite entertaining. You can't help but chuckle when the characters break into a song and dance when you least expect it. For example, there is a dead body on the floor and when members of the Katakuris family open the door and discover it, they start singing about it. There is even a karaoke segment where the characters tell you to sing along and the words appear on the screen. So you have an out of this world, but entertaining story with lots of singing and dancing. What else could you ask for? How about clay animation? There are multiple segments in this film that are shot in that fashion. Remember the "Three Little Pigs" video by Green Jelly? That is what it is like.
The acting in this film is not bad. I guess what I mean to say is that it matches this style. The singing isn't all that great either, but like the acting, it matches.
If you are looking for a little violence, a little sexual content, some romance, comedy, clay animation, singing, and dancing then this film is exactly what you are looking for.
The Happiness of the Katakuris Quotes
There are no approved quotes yet for this movie.