Happy Birthday to Me
(1981)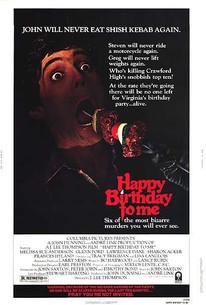 Happy Birthday to Me Photos
Movie Info
Melissa Sue Anderson stars as Virginia, a co-ed haunted by suspicions that she may be the psycho who is killing off her fellow students.
Critic Reviews for Happy Birthday to Me
Audience Reviews for Happy Birthday to Me
Happy Birthday to Me is a slow as molasses 80's teen slasher that's mediocre at best. It's dull, has a boring plot, takes itself far too seriously, and worst of all, is waaaaaay too long. The kills are few, far between, and even off-camera (defeating the entire purpose of a freakin' slasher movie in the first place), there's no t&a and no humor. I would recommend it if you needed two hours of background noise or a sleep-aid, but the frequent screams and yells (often for completely no point) would quickly ruin either of those scenarios. The only vaguely entertaining part of the movie is the truly ludicrous ending, but that's not worth the nearly two hours of boredom that would be required to get to it. Worst birthday, ever.
½
Good little 80s slasher with a decent array of inventive kills, quite violent too for its day. The ending is a memorable one which will catch you off guard with its twist. At the end of it all it's a good and entertaining viewing but not quite sleazy or brutal enough for my tastes.
½
A very good early 80's slasher film with some original kills, even by today's standards! It did feel a little bit long and slow at times but it has plenty of red herrings and quite a twist for a very early slasher film. The poster alone stuck in my head from an early age for quite a while. Not overly gory but still a very enjoyable film for slasher fans. Just seen the lead character was the blonde girl in little house on the prairie.
Happy Birthday to Me Quotes
There are no approved quotes yet for this movie.