The Happy Ending
(1969)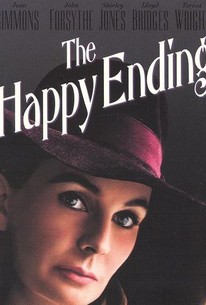 Movie Info
Happy Ending was intended as a satire of the emptiness of suburban life. Jean Simmons (then the wife of producer/ director/ writer Richard Brooks) is bored silly by her 16-year marriage to John Forsythe. She jets off to the Bahamas and launches an affair with gigolo Bobby Darin. Then she...yes, we said Bobby Darin. Then she realizes that what she really lacks in life is a decent education, so she returns to her husband and enrolls in night school. This, of course, occurs only after she experiments with booze, drugs, and Bobby...yes, we said Bobby Darin.
Critic Reviews for The Happy Ending
Audience Reviews for The Happy Ending
Jean Simmons makes this compelling viewing. The backstory of the film is that director Richard Brooks, Simmons husband at the time, was concerned and aware of Jean's alcoholism and designed the picture not only as a showcase for her prestigious talent, rewared with an Oscar nomination, but hopefully a wakeup call for her. It didn't work immediately and eventually helped destroy their marriage but she was able to eventually conquer her demons and live sober until the end of her life. The film itself is a scattershot affair what with it's frequent flashbacks and fragmented nature but does have a beautiful score and excepting Bobby Darin very good supporting work. Shirley Jones is notable in particular in the smallish role of an old college chum of Jean's. The ending is beautifully done, simple and true.
The Happy Ending Quotes
There are no approved quotes yet for this movie.