Happy Endings
(2005)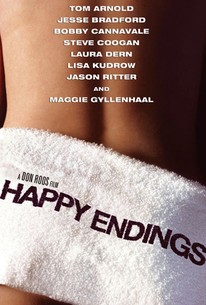 Movie Info
Mamie is being blackmailed. This filmmaker named Nick claims to know Mamie's son -- the one she gave up for adoption -- but Nick won't introduce her to him unless he can film the reunion. Enter Javier, Mamie's massage therapist boyfriend, who convinces Nick to film him instead. Now they're all making a movie about massage. Charley has a longtime boyfriend named Gil. Their best friends, Pam and Diane, once tried using Gil as a sperm donor. They said his sperm didn't take, but Charley thinks those control-freak lesbians are lying. Pam and Diane's two-year-old son looks exactly like Gil. And, it's time to set the record straight. Jude is pissed. Not at anyone in particular. Just in general. When her cousin kicks her out of the house, Jude shacks up with Otis, who's still trying to convince his father, Frank, that he's straight. Frank's a widower. And, he's rich. So Jude decides to sleep with him, too. The last thing she expected was to fall in love.
Critic Reviews for Happy Endings
Audience Reviews for Happy Endings
Anatoliy Dudaev
Super Reviewer
Multiple intersecting stories, including plots about blackmail, stolen sperm, and a woman who fucks a gay drummer and his father, are at the center of this Robert Altman imitation. By the end of this film, I thought that it had reached the Altman Standard in terms of its ability to cleverly combine these characters with some degree of dramatic effectiveness. I write "dramatic" intentionally because even though the title cards and other sources identify this as a comedy, I saw very little humorous about its situations or delivery. Sure, there are a couple moments that were chuckle-worthy, but that's about it. In my sentence-summary of the film, I listed the most prominent plots, and if you think I'm being somewhat satirical, you're right. A lot of the critics' reviews of Happy Endings lamented the ludicrousness of its storylines, and from a writer's standpoint, I have to agree. However, good actors can sometimes save bad writing. The way in which each of these actors commit to their characters makes the film almost believable. Of particular note is Lisa Kudrow, with whom I, a long-time Friends hater, have never been impressed. But she scraps her ditsy-girl act, and her damaged character exudes a vulnerability that her other work didn't allow her to explore. Also, throughout the film we get title cards explaining characters' back-stories, and this strikes me as lazy filmmaking. Instead of deftly showing the information we need, the film inundates the audience with minutiae and sly comments that have little bearing on the film's action. Overall, though there are some significant issues from a writing perspective, the actors save this piece.
Jim Hunter
Super Reviewer
½
This is a great movie. I first watched it a few years ago, and I couldn't remember a great deal about it, aside from that I enjoyed it. Had a few hours this afternoon, (and I mean that literally, it is over 2 hours long). This is a black comedy and has a great cast including Maggie Gylenhaal in an early role (probably my favourite character in this. She is not especially likable, but I did like her, she plays the part in such a way that you want to make excuses for her). There's also Lisa Kudrow in sour and bitchy mode, similar to the character she played in The opposite of sex, which I think was the same director, which explains a few things. The two movies definitely have similarities. I really liked how this movie ran so many different stories together, and how it used text to narrate some of the story. An interesting and well written story.
Nicki Marie
Super Reviewer
Happy Endings Quotes
There are no approved quotes yet for this movie.