Happy Gilmore
(1996)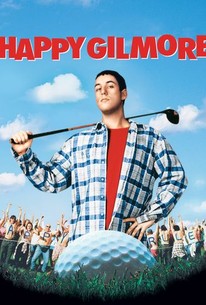 TOMATOMETER
AUDIENCE SCORE
Critic Consensus: Those who enjoy Adam Sandler's schtick will find plenty to love in this gleefully juvenile take on professional golf; those who don't, however, will find it unfunny and forgettable.
Movie Info
A failed hockey player turned unconventional golf whiz is determined to win a PGA tournament to save his grandmother's house with the prize money.
Critic Reviews for Happy Gilmore
Audience Reviews for Happy Gilmore
Sandler's second major starring vehicle is his riff on 1980's Caddyshack, another golf comedy. His idea of funny is to transplant the loud obnoxious environment of the hockey rink to the quiet, sophisticated atmosphere of the golf course. It's clear Happy has an anger problem and he's frequently given to losing his cool. The humor is lowbrow and a lot of it rests on Happy Gilmore's boorish demeanor as contrasted with stuffed shirt Shooter McGavin, a villain embodied in full hissable glory by Christopher McDonald. At first there's sort of an idiotic joy in seeing Happy's aggressive behavior conflict with the civilized gold pros. A confrontation with Bob Barker of TV's The Price is Right is a savage delight. But he doesn't remain that way. As the plot develops, Happy becomes more likable. I think it's relevant to point out that Happy begins as a flawed character, unable to control his temper. By managing his emotions and finding his "happy place" he finds success. Nice moral. It's not as inspired as something like There's Something About Mary from the same era. However Happy Gilmore has achieved a cult status and like all such films it improves with repeated viewings. fastfilmreviews.wordpress.com
Mark Hobin
Super Reviewer
It's sad to see where Adam Sandler is right now and compare him to what he was like in the 90's. It just makes you wonder one thing: What happened? Happy Gilmore is definately one of the better movies that Sandler has been in. He plays Happy Gimore, a hockey player with a reputation for being violent towards anybody who pisses him off. (I'm sure he'd beat up a 90 year old man if he was mad enough.) So Happy's grandmother is losing her house because of unpaid taxes and he decides to get the money by winning a golf tournament. It turns out he's a natural when it comes to driving the ball long distances. The thing about this movie is that it's actually funny. There were some jokes where I was like "Come on, you're 90's Adam Sandler, you can do so much better." Some jokes were dumb, but there are surprisingly a lot of parts that made me laugh my ass off. Ben Stiller as the nursing home orderly...that's really all I have to say. Anytime you slap a mustache on Ben Stiller, he's instantly a dick to everyone and he makes for some very funny scenes. Most of the film's humor revolves around Happy's behavior, stuff like him beating people up and cussing and it works for this movie. The jokes aren't as crude or idiotic as they could've been. One would think that seeing Happy beat people up would get old halfway through the movie, but his violence just provides so much entertainment. The fight between him and Bob Barker is hands down my favorite scene in the entire movie. Not just the actual fight made me laugh, but the build up to it also cracked me up. The guy who is always yelling "Jackass!" is the best character in the movie. For a comedy, the cast is pretty decent. Frances Bay, Christopher McDonald are all good in their roles (I didn't really care for Julie Bowen) but it surprised me how Carl Weathers held up as Chubbs. He's the basic mentor with a backstory, but he provided some good laughs, as did the rest of the supporting cast. Happy Gilmore is a stupid movie, but in a good way. Back in the 90's Adam Sandler movies were known for their stupidity, but the stupid stuff was also the funny stuff. Now with stuff like Jack and Jill and Just go with it, it's just plain stupid. Happy Gilmore is no perfect comedy, but it's enjoyable as hell and it does it's job of being watchable and making me laugh.
Tyler Robertson
Super Reviewer
½
A good time, nothing more, nothing less.
Happy Gilmore Quotes
| | |
| --- | --- |
| Happy Gilmore: | Green jacket, gold jacket who gives a crap? |
| | |
| --- | --- |
| Jeering Fan: | You're gonna need a blanket and suntan lotion, cause you're never gonna get off that beach, just like the way you never got into the NHL, ya JACKASS. |
| | |
| --- | --- |
| Happy Gilmore: | uh oh happy learned how to putt |
| Happy Gilmore: | Uh oh, Happy learned how to putt. |
| | |
| --- | --- |
| Happy Gilmore: | The price is wrong, bitch. |